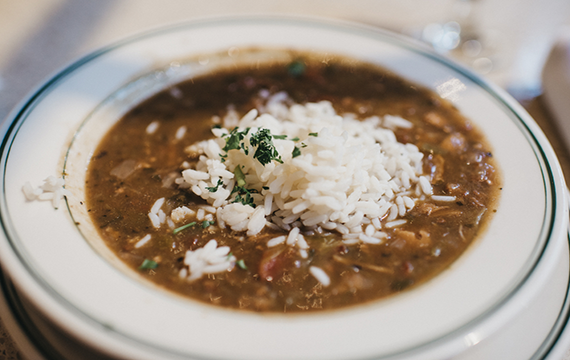 Ingredients
1 c. peanut oil, lard or bacon fat

1 ¼ c. flour

1 large minced green peppers

2 minced medium onions

4 minced celery stalks

6 minced cloves garlic

3 – 4 lbs. of venison or other game meats

1 tsp. black pepper

Salt to taste

2 Tbsp. sweet paprika

1 tsp. cayenne pepper

1 Tbsp. dried thyme

1 Tbsp. dried oregano

2 Tbsp. garlic powder

1 tsp. celery seed

3 qts. game stock, chicken stock or water

1 lb. smoked andouille sausage, cut into rings

2 Tbsp. filé powder

2 green onions and 1–2 Tbsp. chopped parsley per person
Gillie's Seafood
Chef: Sean Mendes
---
Address
805 Folly Rd, Charleston, SC 29412, USA
Visit Website
---
Directions
Bring the stock to a gentle simmer. In a Dutch oven or large pot, add the cup of oil to the pot, and turn the heat to medium-high. Whisk in the flour, and stir this frequently until it turns the color of chocolate. You can go as dark as dark chocolate brown, but under no circumstances can you let this roux burn. Keep in mind that this takes time, maybe 15 to 25 minutes of frequent stirring. When the roux is ready, add the peppers, onions, celery and garlic and stir to combine. Cook this, stirring often, for 6  to 8 minutes, until the veggies are soft.
Meanwhile, mix all the dry spices together except the filé powder. When the veggies are soft, ladle in the stock with one hand while stirring with the other. Stir in each ladle of stock before adding another. Turn the heat to high to bring the gumbo to a strong simmer. Add half the spices, stir to combine, and add the meats. Taste and add more salt or spices if you want. Drop the heat to a simmer, cover and cook gently for at least 90 minutes, but probably more like 2 to 3 hours. Check the status of the meats every half-hour after 90 minutes have elapsed. When the meats are about falling off the bone, fish them out and when they cool enough to handle them, pick the meat off the bones. Return the meats to the gumbo and add the andouille. Cook for another 15 minutes or so.
Add the filé powder, the green onions and parsley. Cook for 3 minutes more. Serve with rice or all by itself.