Maverick Shrimp and Grits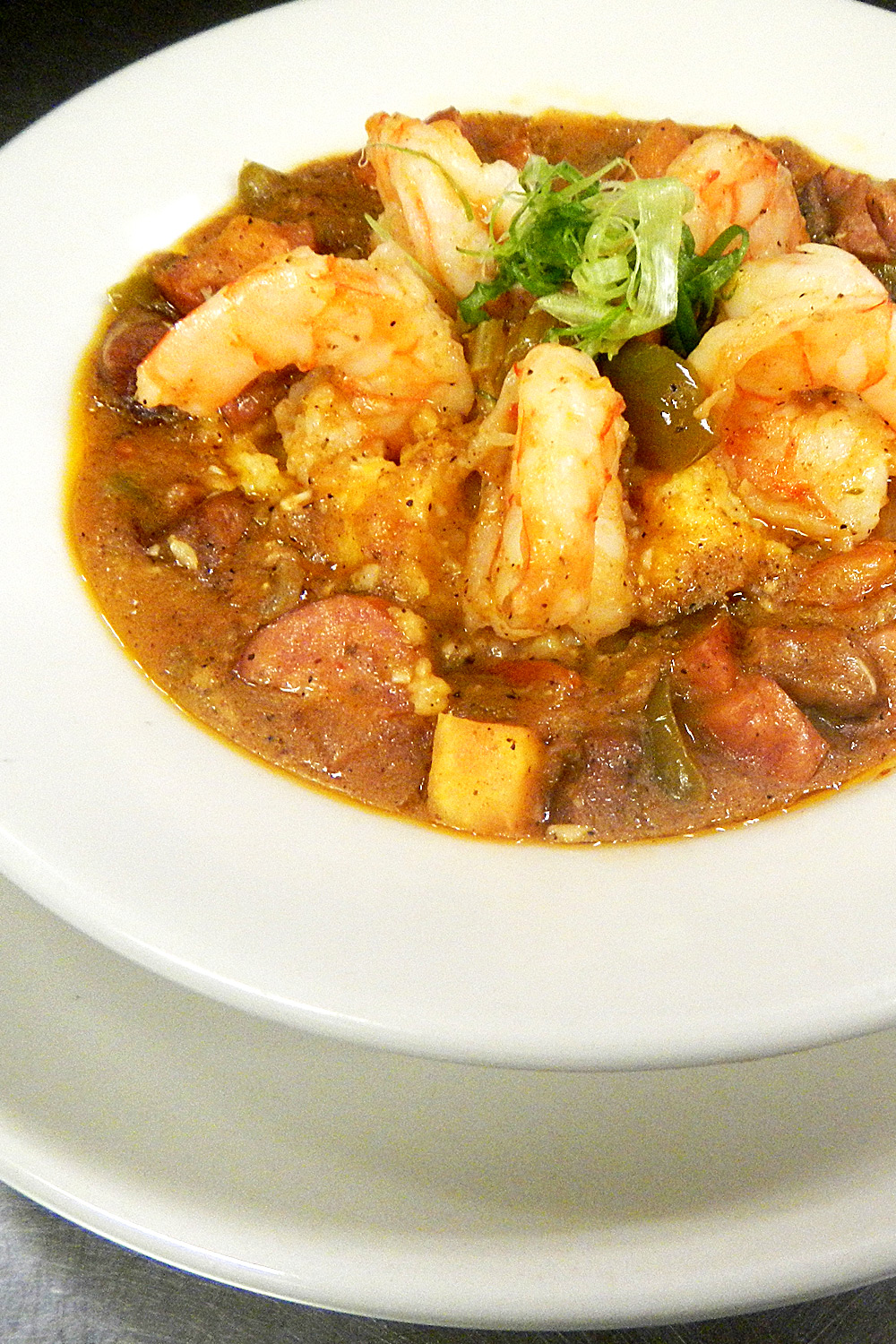 Ingredients
Maverick Grits, Chef Frank Lee's interpretation of two South Carolina favorites, is a melding of Shrimp and Grits and Frogmore Stew, (also known as Lowcountry boil), and features shrimp, sausage, and other "Southern" ingredients. This recipe was selected by GQ Magazine for a Golden Dish award in 1994.
Basic Grits Ingredients:
4 c water
½ tsp. Salt
1 Tbs. Butter
1-1 ½ cups stone ground grits
¼ Cup cream
Topping Ingredients:
1 tsp. butter
4 oz. (4 Tbs.) country ham, julienne
4 oz. Smoked pork sausage cut in circles (can be andouille or other spicy sausage if you prefer)
12 shrimp, peeled and deveined
4 Tbs. Fresh tomato, seeded and diced
4 Tbs. green onion
1/8 tsp. Minced fresh garlic
Pinch of Cajun spice
1/4c of chicken stock or water
1 Tbs. of butter
---
Directions
Basic Grits Directions:
Bring water, salt, and 1 Tbs. Butter to a boil. Stir in grits. Reduce heat to low and cook, stirring occasionally, until grits are thick and creamy. Approx. 40 min. Remove from heat and finish by stirring in cream and remaining butter. Keep warm.
Topping Directions:
Sauté ham and sausage in 1 tsp. Butter. Add shrimp, garlic and Cajun spice. Sauté 30 seconds. Add green onion and tomato. Add water. Finish with remaining butter. Cook until shrimp are plump and pink.
To Assemble:
Serves two people. Spoon grits onto plates in equal portions. Place 6 shrimp per person on grits and spoon equal parts of topping.