Roadside Seafood Fried Shrimp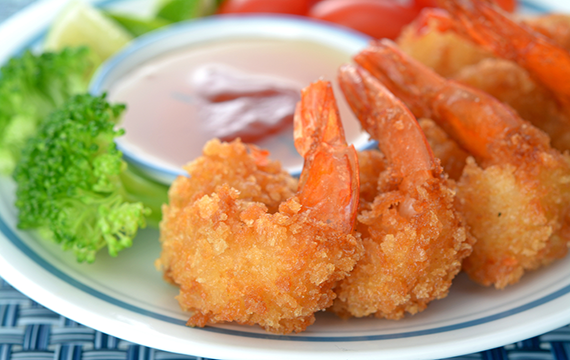 Ingredients
Vegetable oil, for frying

4 cups buttermilk 

¼ cup hot sauce, such as Frank's

2 tablespoons blackened seasoning 

6 large eggs 

2 pounds seafood breading

1 pound local shrimp (31/35 count),peeled, deveined, rinsed and drained

Special equipment: a deep fryer (optional) and a deep-frying thermometer
Gillie's Seafood
Chef: Sean Mendes
---
Address
805 Folly Rd, Charleston, SC 29412, USA
Visit Website
---
Directions
Pour enough oil into a deep fryer or deep, heavy bottomed pot so the shrimp can be submerged completely. Heat the oil to 350 degrees F.
Meanwhile, whisk the buttermilk, hot sauce, blackened seasoning and eggs in a large bowl. Put the seafood breading in a shallow bowl. Put the shrimp in the buttermilk mixture to evenly coat, then drain. Immediately toss the shrimp in the seafood breading. Remove the shrimp from the breading and gently shake away excess breading. (Using a wide-mesh strainer works best.)
Carefully fry the shrimp in batches in the hot oil until they float to the top, 1 to 2 minutes. Remove from the oil with a slotted spoon and drain on paper towels.
Serves 4