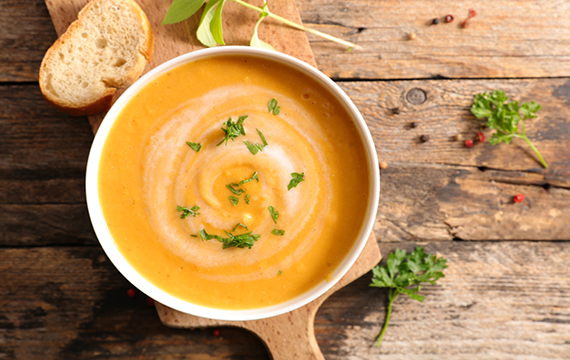 Ingredients
2 tablespoons butter, divided

2 tablespoons all-purpose flour

1 cup milk

1½ cups half-and-half cream

4 teaspoons finely grated onion

¾ teaspoon Worcestershire sauce

Salt and white pepper to taste

¼ teaspoon ground mace

¼ teaspoon red (cayenne) pepper

¼ teaspoon grated lemon zest (rind) 

1½ pounds flaked blue crab meat*

¼ cup crab roe**

3 tablespoons dry sherry

1 tablespoon finely-chopped fresh parsley leaves
Charleston Grill
Chef: Michelle Weaver
---
Address
224 King St, Charleston, SC 29401, USA
Visit Website
---
Directions
*If you live in parts of the country where blue crab is not available, other types of crab meat, such as Dungeness, snow, king or rock crab, may be substituted.
**Crab roe are the eggs harvested from the female blue crab. The addition of crab roe tints the soup orange and enriches its crabby flavor. Two crumbled hard-cooked egg yolks may be substituted for the crab roe.
In a large, heavy pot over low heat, melt butter, then add flour and blend until smooth. Slowly add milk and half-and-half cream, stirring constantly with a whisk; cook until thickened. Add onion, Worcestershire sauce, salt, white pepper, mace, cayenne pepper and lemon zest. Bring just to a boil, stirring constantly. Reduce heat to low, add crab meat and crab roe or crumbled hard-cooked egg yolks. Simmer, uncovered, for 5 minutes. (If the soup appears about to boil, remove the pan from the heat for a minute or so, then return.) Remove from heat and add sherry, stirring to mix. Let sit for 3-4 minutes before serving.
To serve, pour the soup into individual heated soup bowls, dividing the crab meat and roe equally into each bowl. Sprinkle with parsley, and serve immediately.