Johnny D's Waffles and Bakery – North Myrtle Beach
American, Bakery/Dessert, Breakfast, Chef Ambassador, Curbside, Delivery, Dine-In, To Go
(843) 663-1700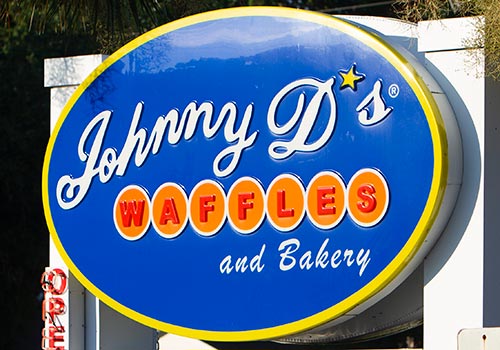 Address
3900 Highway 17 South
North Myrtle Beach, SC 29582
Visit Website
About the Restaurant
Chef Jamie Daskalis is a graduate from the Culinary Institute of America with a degree for Baking & Pastry. She has worked in the restaurant business for 20 years. Growing up her father had four restaurant locations in New York. It was in those restaurants that her love of the food started. After graduation, she started working at her fathers smallest restaurant called Coney Island, located in Middletown NY. As business grew and things were going well, a new opportunity arose in Myrtle Beach and she grabbed it.
---
Hours
Monday: 7:00 AM – 2:00 PM
Tuesday: 7:00 AM – 2:00 PM
Wednesday: 7:00 AM – 2:00 PM
Thursday: 7:00 AM – 2:00 PM
Friday: 7:00 AM – 2:00 PM
Saturday: 7:00 AM – 2:00 PM
Sunday: 7:00 AM – 2:00 PM
---
About the Chef
Growing up in the restaurant business put Jamie Daskalis on a steady path toward a chef's life. Her father owned and operated four restaurants in New York, so young Jamie spent a lot of her formative years observing the culture and pitching in. So, it was only natural that she pursued a career in the family business, enrolling in the Culinary Institute of America to earn a degree in Baking and Pastry. When an opportunity presented itself in Myrtle Beach, she headed south and the rest was providence. As the brainchild behind the wildly popular 
Johnny D's Waffles and Bakery
, Chef Daskalis found the perfect avenue for spotlighting her culinary talents.