Stella's Southern Brasserie
American, Bakery/Dessert, Café, Dine-In, French, Patio Dining
(864) 626-6900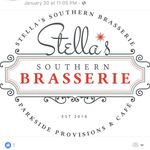 Address
340 Rocky Slope Road
Greenville, SC 29607
Visit Website
About the Restaurant
Stella's Southern Brasserie offers classic cuisine, beverage & service with French/European flair & Southern twist. We'll proudly offer an extensive coffee program, pastries, all day grab & go provisions, weekend brunch, lunch & dinner.
Stella's Brasserie follows Stella's Bistro's longtime commitment & mission in sourcing products locally and regionally first, and always striving to support the community that supports us.
Whether joining us in the bar, at a community table, on the park side patio, or in one of our dining rooms, you'll always feel warm and welcome.
Stella's Brasserie can provide all your private dining needs. Ask about our party room! We can accommodate groups of up to 40 for a seated breakfast, lunch, or dinner, and more for a stand-up cocktail reception.
For Reservations & Other Information about Stella's Brasserie
Visit our Facebook Page at Facebook.com/stellasbrasserie or
Contact management at info@stellasbrasserie.com
Thank you, and we hope to see you soon!
---
Hours
Monday: Closed
Tuesday: 11:30 AM – 9:00 PM
Wednesday: 11:30 AM – 9:00 PM
Thursday: 11:30 AM – 9:00 PM
Friday: 11:30 AM – 9:30 PM
Saturday: 11:30 AM – 9:30 PM
Sunday: 10:30 AM – 2:00 PM
---
About the Chef
Chef Anthony Gray knows how the land connects to food, and how food connects people. He spent an outdoorsy, idyllic childhood in Macon, Georgia, fishing and hunting with his father and absorbing a general familial emphasis on cooking and sharing food. If the outdoors was an early teacher, Gray furthered his culinary career as a student at Johnson & Wales University in Charleston, where he met Chef Frank Lee. Gray took a position with Lee at Slightly North of Broad, where he was initiated into the Maverick Southern Kitchen family. When the team opened High Cotton in Charleston in 1999, Gray became sous chef, staying with the company for ten years and moving up to executive chef of both the Greenville and Charleston locations. Under his direction, the restaurants were featured in numerous publications including The New York Times, Bon Appetit, Southern Living and Boston Globe. Lee proved an important influence on Gray. Among other things, Lee taught him a deep appreciation for rich, traditional charcuterie, a talent he brought to Southern Art in Atlanta. Last year, Gray was named a 2012 Atlanta Rising Star Chef before moving to Greenville.

Drawing on the lessons of his youth, Gray continues to support traditional Southern ingredients and foodways in his menus at Stella's Southern Bistro and Stella's Southern Brasserie. Gray is also a member of the Southern Foodways Alliance, Slow Food Upstate, Slow Food Atlanta and the Carolina Farmer Stewardship Association.