Red Bone Alley
American, Curbside, Delivery, Seafood, Southern, To Go
(843) 673-0035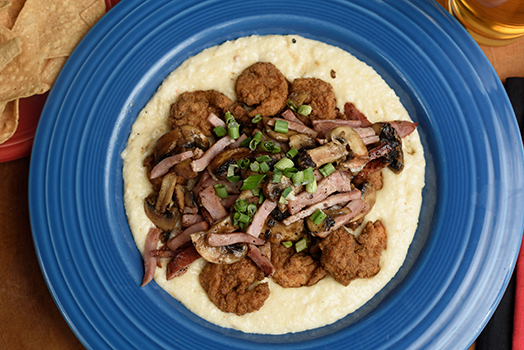 Address
1903 West Palmetto Street
Florence, SC 29501
Visit Website
About the Restaurant
Dale Barth understood at an early age what makes a restaurant great. While studying biology at the College of Charleston, Barth waited tables and worked as a bartender and cook. He imagined opening a place of his own. A dream restaurant with good, fresh and innovative cooking. Attentive and friendly service. An atmosphere that would offer diners an escape from the everyday. Quality food and wine for adults. A fun place to be for kids.
Years later, when a former J.C. Penney department store space became vacant at the Florence Mall in 1992, Barth seized the opportunity to make his dream a reality. After an extensive market analysis combined with a capital investment of $1 million, Barth hired a builder to tear off the roof and add another story.
The massive height and open space offered the perfect foundation for recreating the outdoor cafe experience of Charleston. A steel two-story facade was then designed and built to flank and overlook the streetscape meandering throughout the space.
The result was dramatic — very much like a theatrical set. A two-story high space with an open atrium. A back porch with glowing lanterns. A children's area with patio seating next to an old ice cream truck. An upstairs balcony overlooking the alley. A sports bar and grill. Lowcountry landscape murals painted by Charleston artist David Boatwright. All in all, a little something for everyone.
In 1993, Barth's dream became a reality with the opening of the first Redbone Alley Restaurant and Bar in Florence, SC. The restaurant took off. Lines formed and critics ate it up. The restaurant immediately realized a profit and a complete return on investment in just sixty months.
Named after Barth's daughter's Red Bone coon hound, each restaurant offers an extensive bar, live entertainment and a clothing line featuring the Redbone Alley hound.
The food is fresh and innovative South Carolina regional cuisine. Closely tied to the land, sea and rivers that abound in the region, South Carolina's cuisine is influenced by hundred of years of French, Mediterranean, African, English and West Indian cooking.
Dedicated to offering his customers the freshest food possible, Barth and his staff start every day early by gathering the day's ingredients — produce bought directly from local farmers — honey gathered by South Carolinian beekeepers, Darlington County rice, freshly caught Atlantic seafood and the highest quality aged Western beef flown in daily.
---
Hours
Monday: 11:00 AM – 10:00 PM
Tuesday: 11:00 AM – 10:00 PM
Wednesday: 11:00 AM – 10:00 PM
Thursday: 11:00 AM – 10:00 PM
Friday: 11:00 AM – 11:00 PM
Saturday: 11:00 AM – 11:00 PM
Sunday: 11:00 AM – 9:00 PM
---