Maurice's Piggie Park BBQ
BBQ, Dine-In, To Go
(803) 796-0220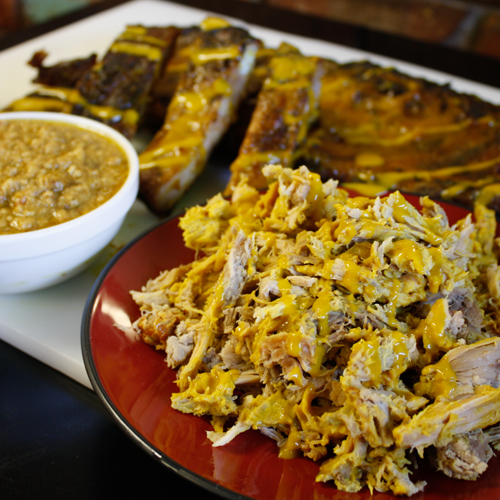 Address
1600 Charleston Highway
West Columbia, SC 29169
Visit Website
About the Restaurant
Maurice's Piggie Park® is home of award-winning pit-cooked BBQ, a South Carolina tradition for more than 70 years. The new generation is keeping it real, pit-cooking for 24 hours over hickory coals. The family's secret heirloom sauce, mustard-based Southern Gold®, is a taste of the old south loved nationwide.
If you've ever wished you could bring home or send a friend the unique flavors of South Carolina style BBQ, Ribs, or Sauce, you've found the spot. Shop for your favorites or send a great gift nationwide. (And yes, we even ship our famous Carolina Hash, you can't find it anywhere else!)
South Carolina fell in love with our unique pit-cooked BBQ in 1939, when Maurice's daddy, Joe Bessinger, opened his first restaurant in Holly Hill, SC. Joe's secret recipe for tangy mustard sauce was a hit with the locals. Word soon spread and a new tradition was born.
Maurice began cooking with his dad at the tender age of 9. When it came time to open his own restaurants Maurice took everything he'd learned from Joe, including the recipe for his secret sauce, and opened Maurice's Piggie Park in West Columbia, SC. After opening additional restaurants across the state he pioneered the concept of the "Pit-Stop" locations where customers could drive in for the great taste of slow pit-cooked pork.
Today Maurice's sons Lloyd and Paul, his daughter Debbie and his grandchildren carry on the family's BBQ heritage. They still pit-cook each pork ham for 24 hours over hickory wood coals using Joe's original secret sauce recipe. All the BBQ they serve is cooked at the original fire pits in West Columbia and delivered daily to their "Pit-Stops" across the state.
This new generation has one simple focus – to serve the best pit-cooked BBQ in South Carolina. Just like Joe did it back in 1939.
---
Hours
Monday: 10:00 AM – 9:00 PM
Tuesday: 10:00 AM – 9:00 PM
Wednesday: 10:00 AM – 9:00 PM
Thursday: 10:00 AM – 9:00 PM
Friday: 10:00 AM – 10:00 PM
Saturday: 10:00 AM – 10:00 PM
Sunday: 10:00 AM – 9:00 PM
---