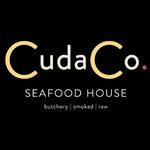 Address
765 Folly Road
Charleston, SC 29412
Visit Website
About the Restaurant
CudaCo.'s founders, Chris and Shaun, met through a love of the ocean. Chris was selling some of the best soft shell crabs in Charleston for over 10 years, when Shaun was buying some for his restaurant downtown they started talking about surfing and sharing their love for all things ocean. Out of this, a concept was born for a unique seafood market that would introduce new flavors, educate the local community on our aquaculture, and most importantly, become a force for progressive change in the industry- traditionally known for waste and pollution.
CudaCo. was born, named after the barracuda, which is widely considered to be a trash fish. Our goal, in line with our mission, is to help make lesser sought after species become the norm. This takes pressure off the fish that are much more popular so it can recover. This style of fishing, coupled with mindful sourcing, make fish a regenerative resource.
Shaun also grew up with a pet barracuda that would live under his dad's sailboat. They called their Cuda Charlie, and he would go everywhere the boat would go, even hundreds of miles down island. That is until Shaun's brother, Jeremy, caught him on a trip down to St. Lucia. Fortunately, his likeness can now be found inside the shop thanks to local artist Chris Kemp.
---
Hours
Monday: Closed
Tuesday: 11:00 AM – 8:00 PM
Wednesday: 11:00 AM – 8:00 PM
Thursday: 11:00 AM – 8:00 PM
Friday: 11:00 AM – 8:00 PM
Saturday: 11:00 AM – 8:00 PM
Sunday: 11:00 AM – 8:00 PM
---