Circa 1886
Chef Ambassador, Dine-In, Lowcountry Cuisine, Patio Dining, Private Dining
(843) 853-7828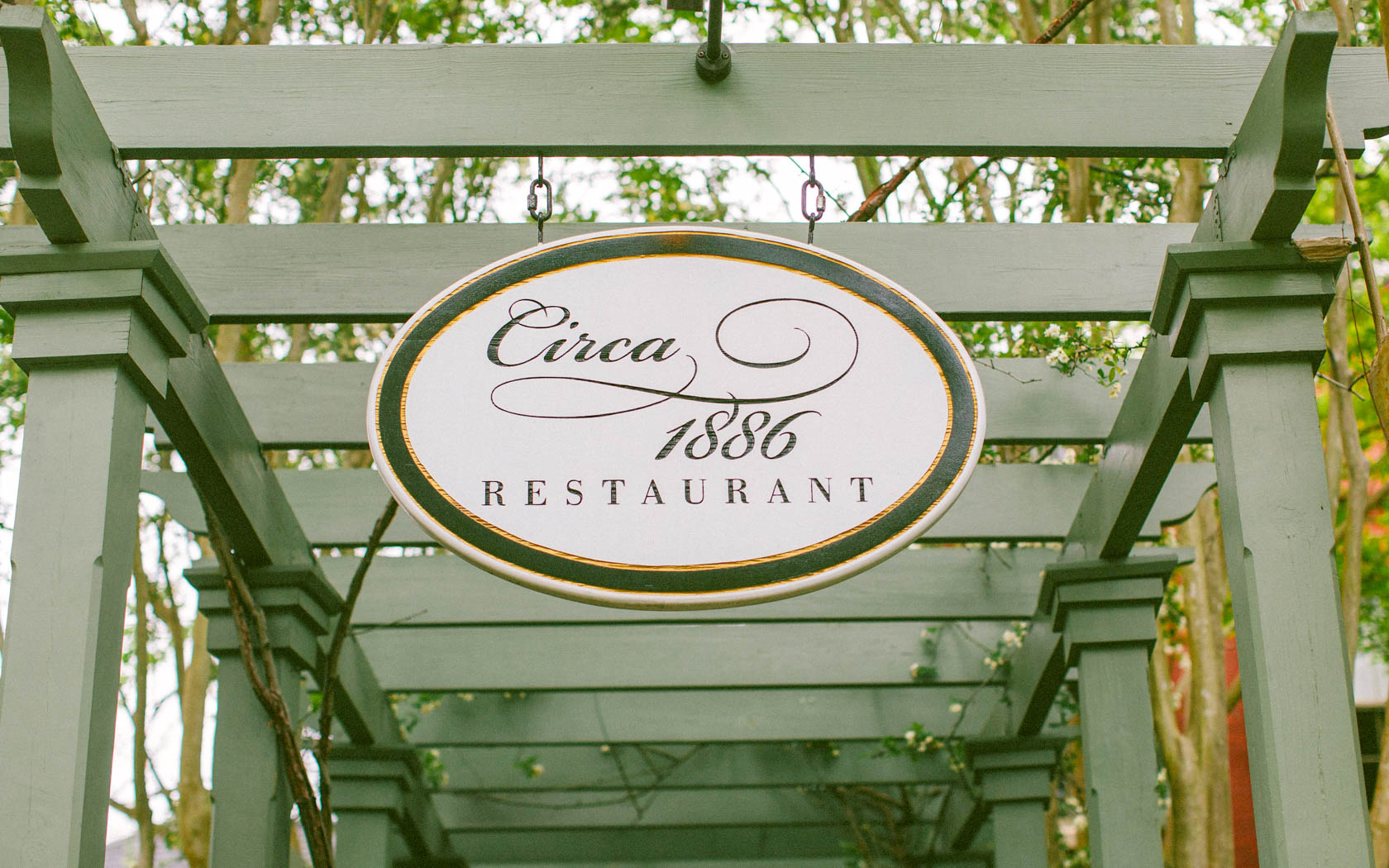 Address
149 Wentworth Street
Charleston, SC 29401
Visit Website
About the Restaurant
Circa 1886 is a fine dining restaurant located on the grounds of the Wentworth Mansion in downtown Charleston, SC. One of Charleston's best restaurants, Circa 1886 serves a seasonal menu with a focus on local product, high quality ingredients and Southern flavors. Executive Chef Marc Collins puts his own forward-thinking spin on traditional Lowcountry dishes and the result is food that is both modern and comforting.
Each bottle of our 250 bottle wine list has been carefully selected for its character and ability to pair well with our cuisine. To keep pace with varying menus and trends, our wine list is ever-changing as well. In cooler months, the list is stocked with rich and bold wines, whereas in the warmer months, the focus is on light and refreshing profiles. All of our wines are stored in the original wine cellar of the Wentworth Mansion.
Circa 1886 is located in the original carriage house of the historic Wentworth Mansion, built in 1886. The building still retains much of its original character. Many of the earliest architectural details still exist, including the wood-burning kitchen fireplace, stable doors, light-filled windows and original heart-of-pine floors. Designed to mimic the original carriage openings, cozy and romantic arched booths are set along the wall of our main dining room.
The restaurant's romantic warm hues, wood paneling, candlelit tables and plush interiors lend themselves to an elegant fine dining experience that is both comfortable and cosmopolitan. Voted one of the country's '20 Best Restaurants for a Date' by Men's Fitness Magazine, Circa 1886 sets the mood for a romantic evening in downtown Charleston.
Circa 1886 Restaurant holds a Forbes Four Star distinction, AAA Four Diamond rating and is consistently recognized by Wine Enthusiast as one of America's Best Wine Restaurants.
---
Hours
Monday: 5:00 – 9:00 PM
Tuesday: 5:00 – 9:00 PM
Wednesday: 5:00 – 9:00 PM
Thursday: 5:00 – 9:00 PM
Friday: 5:00 – 9:00 PM
Saturday: 5:00 – 9:00 PM
Sunday: Closed
---
About the Chef
Originally from Erie, PA, Chef Marc Collins came to the culinary world by an untraditional path.  His original love was in aviation, but less than perfect vision meant his goal of becoming a jet pilot in the Air Force was not in the cards. He turned to food at age 16 after working as a chef apprentice on the Paradise II, a private yacht with a presidential history. That led to a culinary degree from the Pennsylvania Institute of Culinary Arts in Pittsburgh and a string of cooking jobs, including working at the Erie Country Club, where he served under Executive Chef David Spadafore, a Gold Medal Winner in the Culinary Olympics held in Frankfurt Germany. In 1991, Chef Collins moved to San Antonio, where he worked at La Mansion Del Rio under French Chef Guy Collinet and later at La Louisiane, a restaurant specializing in fine French cuisine and Cajun Creole cooking. At 23, he took his first chef position at the Fairmount Hotel, an AAA Four Diamond hotel restaurant. In 2001, Chef Collins was recruited to come to Charleston and take the helm at Circa 1886, where he has remained since, putting his signature stamp on Lowcountry cooking. In 2005, Marc had a budding idea for a food and wine festival to be hosted in Charleston, spotlighting the amazing array of talent and ingredients we have here. Thanks to his dedication and countless hours of preliminary planning meetings, that vision became reality in 2006, when the 1st annual BB&T Charleston Wine & Food Festival launched. Today, the Festival is a prominent weekend that features over 160 chefs and authors from Charleston and across the country, and over 50 food and wine themed events. For his critical work in founding the Festival, Chef Collins is the namesake and first recipient of the 2010 Charleston Wine & Food Festival Marc Collins Chef Award.