Backstreets Grill
American, Curbside, Dine-In, Grille, Online Ordering, Seafood, Southern, To Go
(803) 834-3857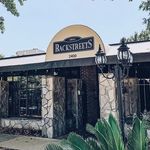 Address
2400 Devine Street
Columbia, SC 29205
Visit Website
About the Restaurant
Backstreets Grill is excited to serve the Columbia, SC community at our newest, family-operated location on Devine Street. Our modern-American cuisine is prepared with only the freshest ingredients, and unique sauces are made in-house daily.
With several dining areas, a crowd-pleasing menu, and the friendliest service in the neighborhood,
Backstreets Grill is looking forward to hosting you soon!
---
Hours
Monday: 11:00 AM – 10:00 PM
Tuesday: 11:00 AM – 10:00 PM
Wednesday: 11:00 AM – 10:00 PM
Thursday: 11:00 AM – 10:00 PM
Friday: 11:00 AM – 10:00 PM
Saturday: 11:30 AM – 10:00 PM
Sunday: 11:30 AM – 10:00 PM
---