Summer Melon Salad with Local Shrimp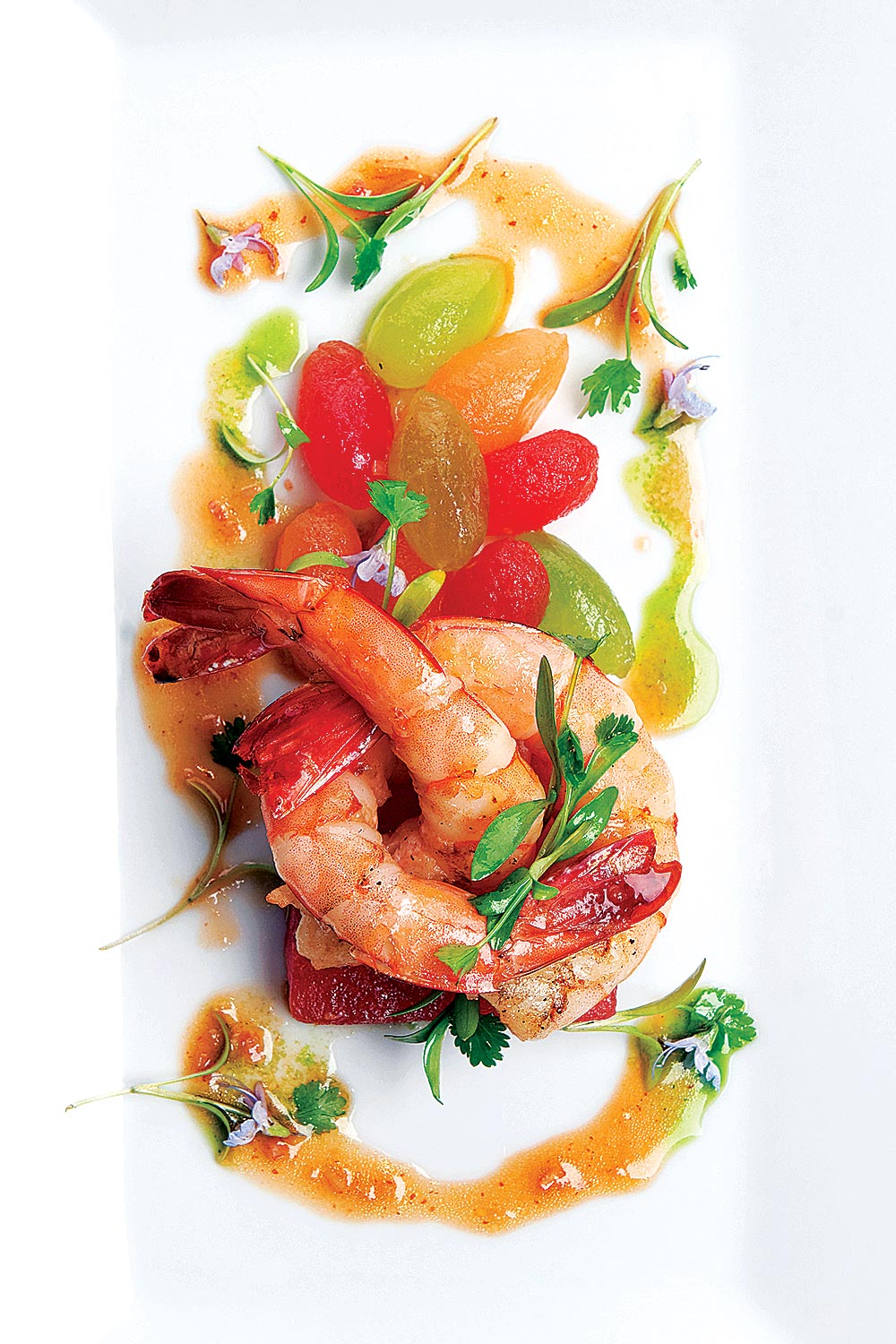 Ingredients
8 to 10 appetizer portions
Red Chili Dressing
Juice of 1 lime
Juice of 1 orange
1/4 cup Thai sweet chili sauce
2 tablespoons rice wine vinegar
1 teaspoon fish sauce
1/2 teaspoon chili powder
1 small shallot, finely minced
1 teaspoon finely minced fresh ginger
2 teaspoons sesame oil
1/3 cup canola oil
1 teaspoon kosher salt
1/4 teaspoon freshly ground black pepper
Salad
24 (21-25 count) local shrimp, peeled and deveined
Canola oil
Kosher salt
1 small seedless Certified South Carolina watermelon, rind removed
1/2 Certified South Carolina honeydew melon, rind and seeds removed
1/2 Certified South Carolina cantaloupe, rind and seeds removed
8 mint leaves, thinly sliced
Baby cilantro sprigs
Rosemary blossoms
---
Directions
Make the dressing: Whisk together the first 8 ingredients. Slowly whisk in the sesame oil and canola oil to incorporate. The dressing will not emulsify; it is a separated vinaigrette.  Whisk in the salt and pepper and refrigerate until ready to use.
Prepare a hot grill: Heat the grill to high. Once hot, reduce the heat to medium-high. Lay an oiled cooling rack that has a grid pattern with half-inch holes on top of the grill's rack or use an oiled fish basket. Either way, the shrimp won't be able to fall through to the coals. Toss the shrimp in enough oil to coat them. Season with salt. Grill the shrimp on both sides for about 1¼ minutes per side. The shrimp should have turned a reddish- orange color and become firm to the touch. Remove the shrimp.
You may either serve the shrimp hot with the otherwise cool salad for a textural contrast or refrigerate them uncovered for at least an hour, or until cool. Cover the shrimp and keep them refrigerated until ready to use. Refrigerated, they will keep for a day.
Cut the melons into slices, cubes, or melon balls.
Place the melons and mint in a large bowl. Add half of the dressing. Toss gently to combine. Place the shrimp and melon on the plates. Drizzle more vinaigrette over the shrimp. You may also drizzle it around the outer edge of the salad or serve it on the side.