Spring Vegetable Egg Casserole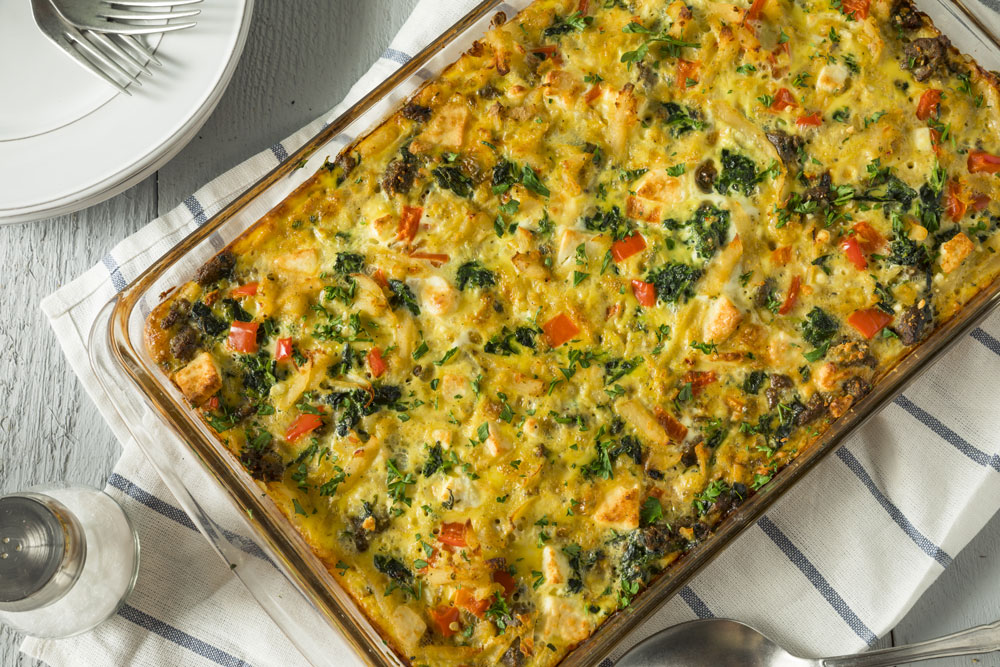 Ingredients
2 tablespoons olive oil
1 small white onion, peeled and diced
1 large carrot (or 1 cup of baby carrots), peeled and diced
1 pound Certified SC Grown asparagus, cut on the diagonal into bite-sized pieces
4 ounces Certified SC Grown sugar snap peas, halved
3-4 cups chopped Certified SC Grown broccoli florets (about 1 medium head of broccoli)
2 cloves garlic, minced
8 ounces baby bella mushrooms, sliced
1 pint cherry tomatoes, halved
4 ounces crumbled feta cheese
12 large eggs, whisked
1/2 cup milk
salt and pepper
---
Directions
Preheat oven to 350°F.  Grease a 9 x 13-inch baking dish with cooking spray.
Heat 1 tablespoon oil in a large sauté pan over medium-high heat.  Add onion and sauté for 4-5 minutes, or until it is soft and translucent.
Add the remaining 1 tablespoon of oil, carrot, asparagus, snap peas, broccoli and garlic, and stir to combine.  Continue cooking for about 8-10 minutes, stirring occasionally, until the veggies have softened and cooked through.  Add the mushrooms and cherry tomatoes, and stir for another 3-4 minutes.
Transfer about half of the veggie mixture to the prepared baking dish, and spread the veggies out in an even layer.  Sprinkle evenly with half of the feta cheese.  Repeat by adding the remaining veggies on top in an even layer, followed by the rest of the cheese.
In a separate mixing bowl, whisk the eggs and milk and a generous pinch of salt and pepper together until combined.  Then evenly pour the egg mixture over the veggies.
Bake for 30-40 minutes, or until a toothpick inserted in the middle of the casserole comes out clean.  Serve immediately.