Southside Smokehouse Shrimp & Grits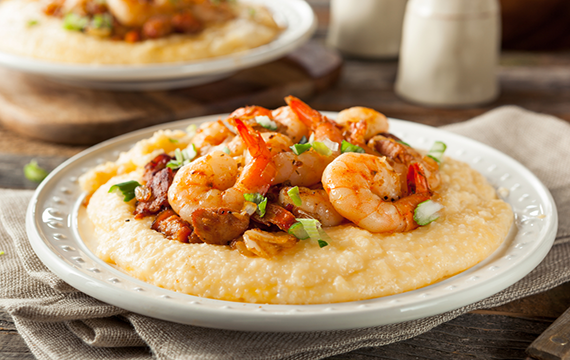 Ingredients
Saute
1 tsp minced garlic

¼ cup thinly sliced yellow onion

1 tsp olive oil

1 lb of peeled deveined wild caught SC shrimp

¼ cup of sliced button mushrooms

¼ cup of andouille sausage

¼ cup canned or fresh diced tomatoes with juice

1-2 oz white wine

3 oz heavy cream
Grits
1 cup heavy cream

1 cup water

1 cup dry stone ground Adluh grits

½ cup grated Parmesan

Butter

Salt 

Pepper 

Hot Sauce
Seafood Seasoning
¼ tsp dried thyme

¼ tsp dried basil

¼ tsp dried oregano

½ tsp Old Bay seafood seasoning
Southside Smokehouse and Grille
Chef: Sarah McClure
---
Address
726 S Howard Ave, Landrum, SC 29356, USA
Visit Website
---
Directions
Bring water and heavy cream to a boil. Turn off the heat and add the grits, stirring occasionally. Do not turn the heat back on. Add the Parmesan, salt, pepper, butter and hot sauce to taste and cover and let sit stirring occasionally until the desired consistency is reached.
Mix the dry ingredients for the seafood seasoning.
Using a non-stick pan cook the onions, garlic, sausage and shrimp and mushrooms until the shrimp are done and the onions are soft. The sausage should have released some of its oils as well. Add the seafood seasoning blend and toss to coat ingredients adding more oil or butter as needed to keep from sticking. Stir in the diced tomatoes and cook for a few more minutes before deglazing with white wine. Cook until slightly reduced and add the heavy cream. Continue cooking until the liquid is slightly thickened and a nice creamy pinkish red color. Take care not to overcook at this point as the cream will separate. If you do, simply add more cream and cook for a few more moments. 
Pour shrimp over grits and garnish with fresh Parmesan. 
SERVES 4