Roasted Pork Belly with BBQ Boiled Peanuts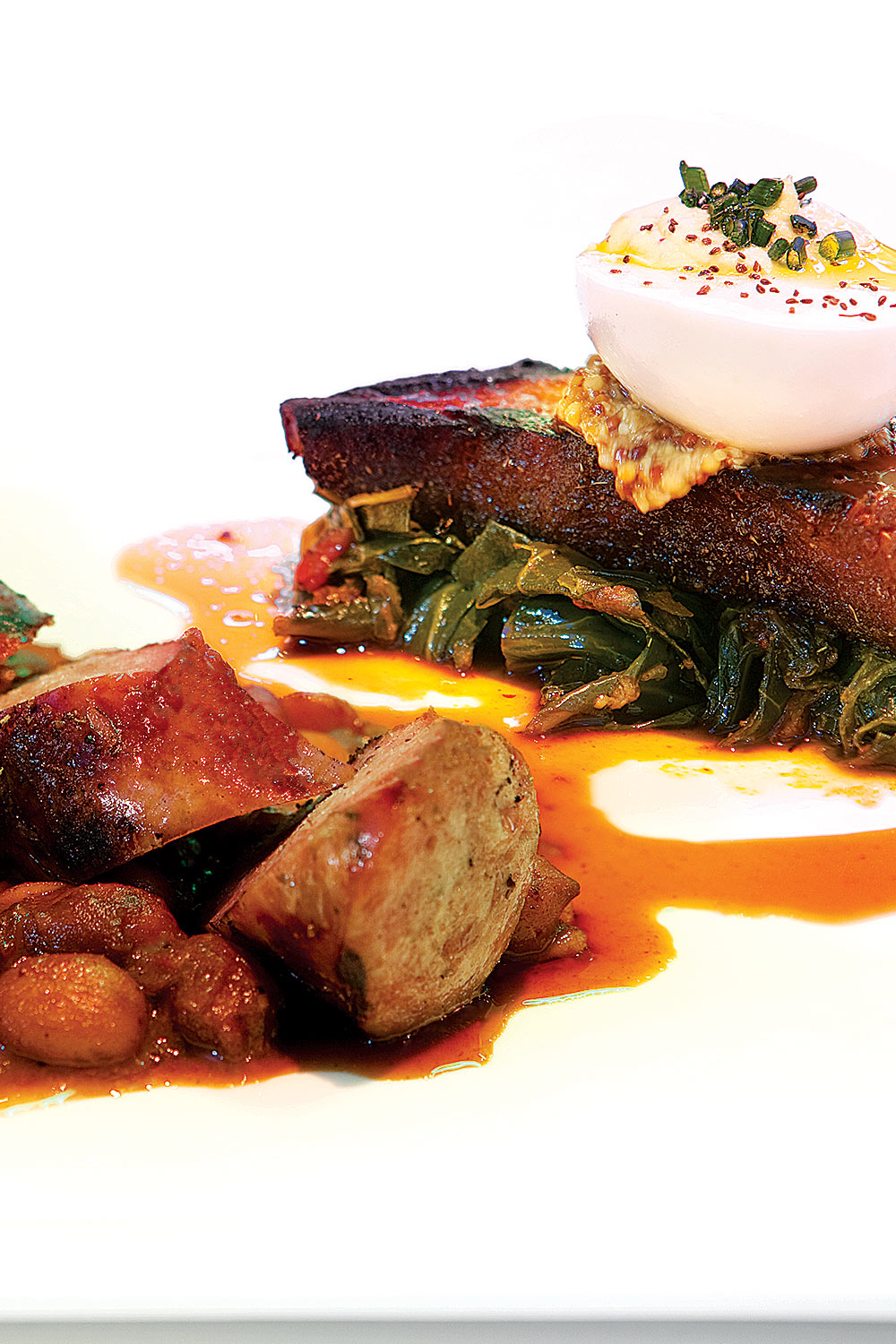 Ingredients
Pork Belly:
Yield: (10) 3 oz portions
2 lbs whole pork belly
3 Tbsp kosher salt
1 Tbsp white pepper
2 Tbsp fennel seed, toasted & crushed
BBQ Boiled Peanuts:
Yield: 2 quarts
1 lb red skin peanuts, raw
¾ gallon water
½ lb smoked bacon
1 cup onion, diced
¼ cup crushed garlic
¼ cup Dijon mustard
½ cup sorghum molasses
¼ cup chili sauce
1 tsp ground clove
¼ tsp ground allspice
1 tsp black pepper
Pickled okra:
Yield: 1 quart
2 cup apple cider vinegar
1 cup water
½ cup sugar
3 Tbsp salt
1 Tbsp mustard seeds
4 allspice berries
1 Tbsp mustard seeds
1 Tbsp celery seeds
½ tsp crushed red pepper
2 bay leaf
2 cloves garlic
3 cups okra, washed
---
Directions
Pork Belly Directions
Combine salt, pepper, & fennel seed.
Rub pork belly thoroughly & allow it to sit overnight.
Roast pork belly at 275° for 3 hours.
Remove from oven and place in refrigerator to cool.
Once cold, cut into 3 oz portions.
To reheat: Place on a hot grill, cooking for 2-3 minutes on each side or until center is hot.
BBQ Boiled Peanuts Directions
Combine peanuts and water in a sauce pan. Bring to a boil and reduce temperature to a low simmer. Cook for 2-3 hours or until peanuts are soft.
In a sauté pan over medium heat, add bacon, onions, and garlic. Cook until caramelized for approximately 15 minutes.
When bacon, onion, and garlic are caramelized add boiled peanuts and cooking liquid, as well as remaining ingredients. Mix evenly.
Remove from sauté pan and transfer into a baking dish.
Bake for 1 hour at 350°, covered with aluminum foil.
Remove foil and bake for an additional 25 minutes.
Remove from oven and keep warm.
Pickled Okra Directions
In a non-reactive pot combine all ingredients except the okra. Place over high heat and bring to a boil.
Add the okra and boil for 4 minutes. Remove from heat and shock the pot in ice water to cool rapidly.
Transfer the pickled okra to glass jars and store in the refrigerator for at least 1 week before using.
The pickled okra will keep for about one month.
To Plate:
In the center of 4 plates, place a ½ – ¾ cup each of bbq boiled peanuts. Be sure to get some of the liquid from the bbq peanuts.
Place pork belly on top of boiled peanuts and garnish with pickled okra.