Pan-Roasted Chicken Breast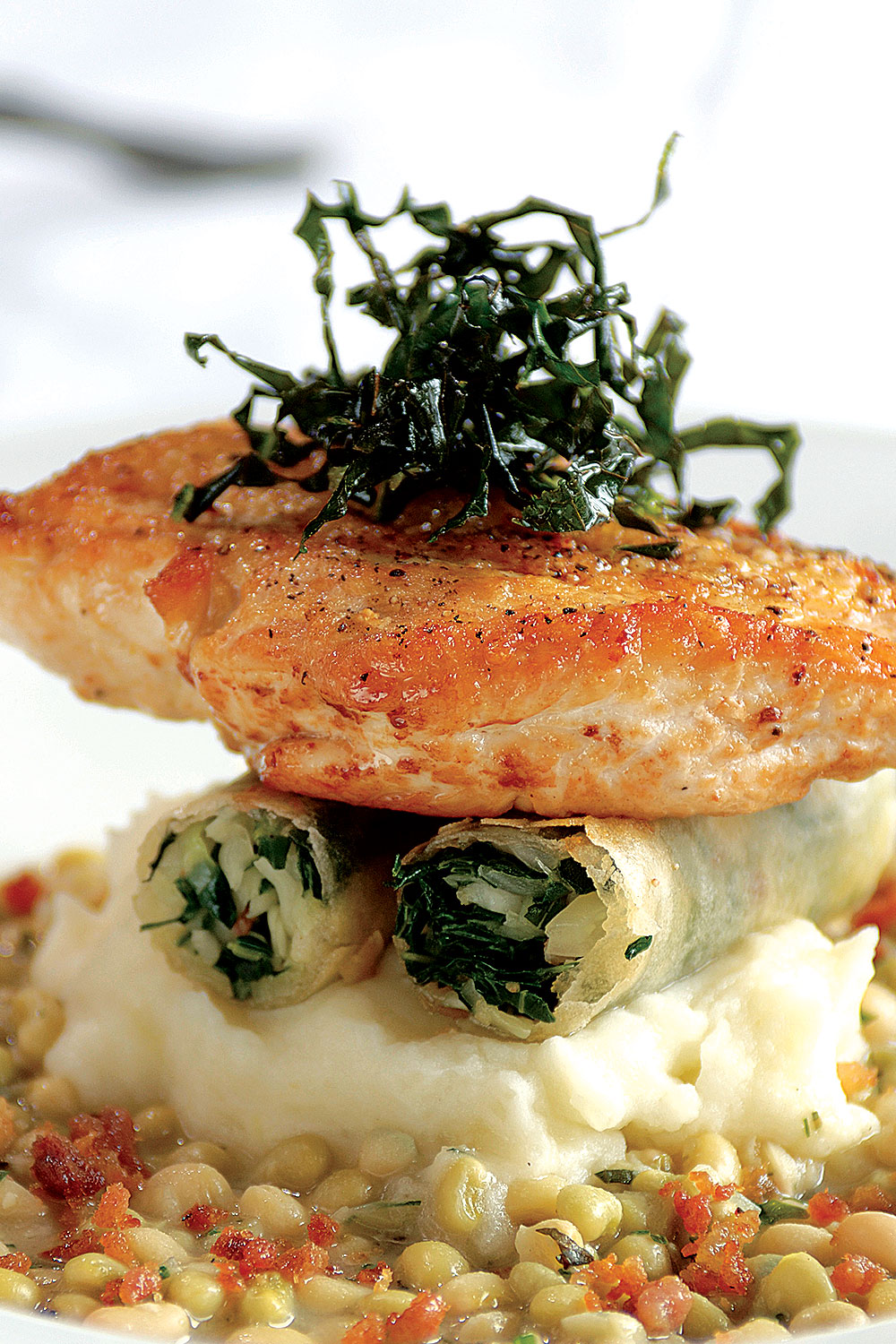 Ingredients
Pan-Roasted Chicken Breast with Crispy Collard and Cabbage Rolls, Lady Peas, Butter-Whipped Potatoes and Fried Collards
Serving: 4
Chefs note:
This dish uses many truly southern ingredients. I prefer to serve the chicken with the skin on because it protects the tender breast meat while cooking and also renders down to a flavorful golden brown crust. If lady peas are not available, feel free to substitute butter-beans, black-eyed peas or zipper peas. The fried collards have a unique early flavor that I associate with nori, the seaweed sheets that are roasted and used for sushi. They make a great garnish and elevate Down South cooking to new heights. Lumpia wrappers are a lighter, crispier version of egg roll wrappers. They are very thin sheets and generally come frozen. While lumpia wrappers are rolled around a filling and deep-fat fried, they will have a crispy multi-layered golden brown crust.
For the Pan Roasted Chicken Breast:
4 (4-5 ounce) chicken breast, boneless but with skin on
4 tablespoons light olive oil
1 tablespoon coarse sea salt
1 teaspoon freshly ground black pepper
3 tablespoons butter
Butter-Whipped Potatoes
Lady Peas
Carolina Ham Cracklings
For the Crispy Collard and Cabbage Rolls:
Makes 4 rolls
½ cup finely chopped smoked bacon
½ cup sliced yellow onion
3 cups thinly sliced collard green leaves, washed, stemmed, and cut into 1/8-inch slices
2 cups thinly sliced cabbage, cut into 1/8-inch slices
2 teaspoons minced garlic
1 ½ teaspoon salt, white pepper, freshly ground black pepper
1 tablespoon cornstarch
1 tablespoon water
1 package lumpia wrappers, thawed
½ gallon canola oil or peanut oil
For the Fried Collards:
1 cup collard green leaves, washed, stemmed and cut thinly into 1/8- inch slices, divided
For the Butter-whipped potatoes:
Makes 5 cups
6 cups large roughly cut peeled russet or boiling potatoes
6 cups cold water
1 tablespoon plus 1 teaspoon fine sea salt
1 cup heavy cream
½ cup half-and-half
6 tablespoons butter, white pepper
For the lady peas:
Chefs note:
All of these fresh peas and beans cook from 30 to 35 minutes. If you cook them another 10 minutes and mash some of them with the back of a spoon, the released starch will give them a natural creaminess. A small addition of water may be needed for this step.
3 cups fresh beans or peas (1 pound)
2 ½ cups water, smoked pork neck bone or piece of smoked bacon, if desired
¾ tablespoon salt
Dash white pepper
2 tablespoons butter
---
Directions
Pan Roasted Chicken Breast Directions:
Trim the chicken breast of any cartilage and fat, still leaving the skin attached.
Heat the oil in a heavy-bottomed pan.
Season the chicken breast with the salt and pepper on all sides.
Place chicken breast in the oil skin-side down and sear them over medium-high heat.
After 1 minute, gently lift the breast and move the pan to get some of the hot oil under the skin and prevent it from burning.
Lower the heat to medium. The goal is to slowly caramelize the skin to a nice golden color.
Carefully turn the breast over and continue cooking the opposite side for 1 to 2 minutes or until it is firm to the touch.
Add the butter and allow it to melt and slowly brown, while tilting the pan and spoon-basting the breast with the oil and butter mixture.
Slowly cook for 6 to 7 minutes per side, depending on the size of the breasts, or until cooked through.
Remove from the heat and allow to rest in a warm area for 2 to 3 minutes before serving.
Crispy Collard and Cabbage Roll Directions:
In a large pot or wok, cook the bacon over medium heat for 1 minute. Increase the heat to high, add the onions, 2 cups of the collards and the cabbage.
Stir-fry for 1 ½ minutes, add the garlic and continue to stir for 1 minute, or until the collards just begin to wilt.
Add the salt and peppers.
Immediately transfer the mixture to a baking sheet and spread out to cool to room temperature.
Refrigerate until cold, this can be done a day or two ahead
Mix the cornstarch and water.
Place two lumpia wrappers on a clean counter. Place ¼ of the filling along the bottom of each wrapper and begin to roll up, keeping them evenly filled and tightly rolled. As you get to the last 1 ½ inches of each roll, brush with a little of the cornstarch mixture to seal.
Continue to roll, and place seam side down on a piece of wax or parchment paper. Repeat until you have 4 rolls. These may be covered and frozen at this point for future use. If the rolls are frozen it is best to let them sit a few minutes at room temperature before frying.
Preheat the oil to 350 degrees.
Gently place the rolls in the heated oil and fry for 2 minutes, or until the ends are golden brown and the rolls are crispy.
Remove and place on paper towels. Keep warm. These should be served within 10 minutes to be at their best.
Fried Collard Directions:
Preheat oil to 320 degrees
Gently place the remaining collard greens in the hot oil.
Very gently agitate with a hand skimmer and cook until the bubbles begin to dissipate.
Remove the greens, shake off the excess oil, and place on paper towels. Be careful because these will continue to cook after they are removed from the hot oil.
Allow to cool to room temperature. These can be done up to 3 to 4 hours ahead.
Butter-whipped Potato Directions:
Put the potatoes, water, and 2 tablespoons salt in a saucepan and bring to a boil over medium-high heat.
Lower the heat to a simmer and cook for 18 to 20 minutes, or until the potatoes are tender when pierced with a fork
Place the cream, half-and-half, and butter in a small saucepan and heat until the butter has melted. Reserve warm.
Drain the liquid off the potatoes and return the pan to the burner.
Steam dry the potatoes, stirring constantly. Remove from the heat and put the potatoes through a food mill with a fine screen or a potato ricer.
Carefully blend the warm cream mixture into the potatoes. Season with the remaining salt and white pepper to taste.
Using a whisk or a mixer with a whisk attachment, whip up the potatoes. Serve immediately.
Lady Peas Directions:
Rinse the peas or beans under cold water and remove any foreign particles.
Put them in a saucepan and add the water.
Add the smoked product, if desired.
Cook over medium heat, removing the foam that will appear as they begin to cook and discarding it.
Season with the salt, white pepper and butter.
To Plate: `
Place ½ cup potatoes in the center in the plates. Trim the ends of the cabbage and collard rolls and cut into two pieces that are even lengths. Place the two rolls on the potatoes and spoon the lady peas around. Sprinkle with a table spoon of the ham cracklings and place a chicken breast on top. Garnish with the fried collard greens and serve immediately