Michelle's Lowcountry Shrimp and Grits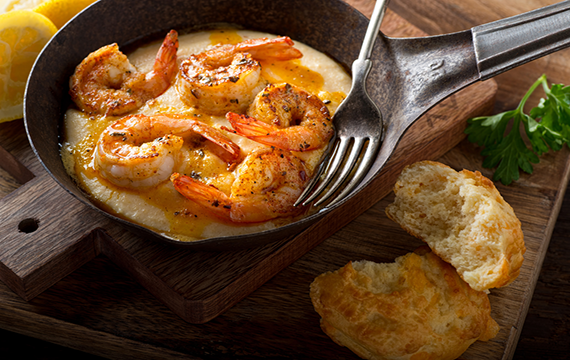 Ingredients
Grits
2 cups uncooked white coarse-ground grits

½ cup freshly grated Parmigiano-Reggiano cheese

¼ cup unsalted butter
Shrimp Sauce
1 pound unpeeled, medium-size raw shrimp (2 8/31 count)

4 thick hickory-smoked bacon slices, diced

6 tablespoons unsalted butter

1 medium-size sweet onion, diced

½ poblano pepper, diced

3 garlic cloves, minced

½ teaspoon kosher salt

¼ teaspoon ground white pepper

¼ teaspoon ground red pepper

1 tablespoon all-purpose flour

½ cup chicken broth

¼ cup Madeira

2 tablespoons fresh lemon juice

1 tablespoon chopped fresh parsley

1 green onion, chopped
Charleston Grill
Chef: Michelle Weaver
---
Address
224 King St, Charleston, SC 29401, USA
Visit Website
---
Directions
Bring 7 cups of water to a boil in a 4 qt. saucepan over medium-high heat. Slowly whisk in grits; reduce heat to medium and cook while whisking constantly for 5 min. Cover; reduce heat to low and cook while stirring occasionally for 1 hour or until tender. Fold in cheese and ¼ cup butter. 
Peel shrimp, de-vein if desired.
Cook bacon in a large skillet over medium-high heat, stirring often for 4 to 5 minutes or until crisp; remove bacon and drain on paper towels, reserve 2 tbsp. drippings in skillet. 
Melt 6 tbsp. of butter in hot drippings in skillet. Reduce heat. Add onion, Poblano pepper, and garlic; sauté 2 minutes or until sweet onion is translucent. Add shrimp; cook, stirring often for 1 to 2 minutes. Add salt and next 2 ingredients; toss to coat.
Sprinkle flour over shrimp mixture; toss. Add broth and next 2 ingredients. Cook just until shrimp turn pink, stirring to loosen particles from skillet. Stir in bacon and parsley. Serve over grits with green onion. 
Recipe serves 6