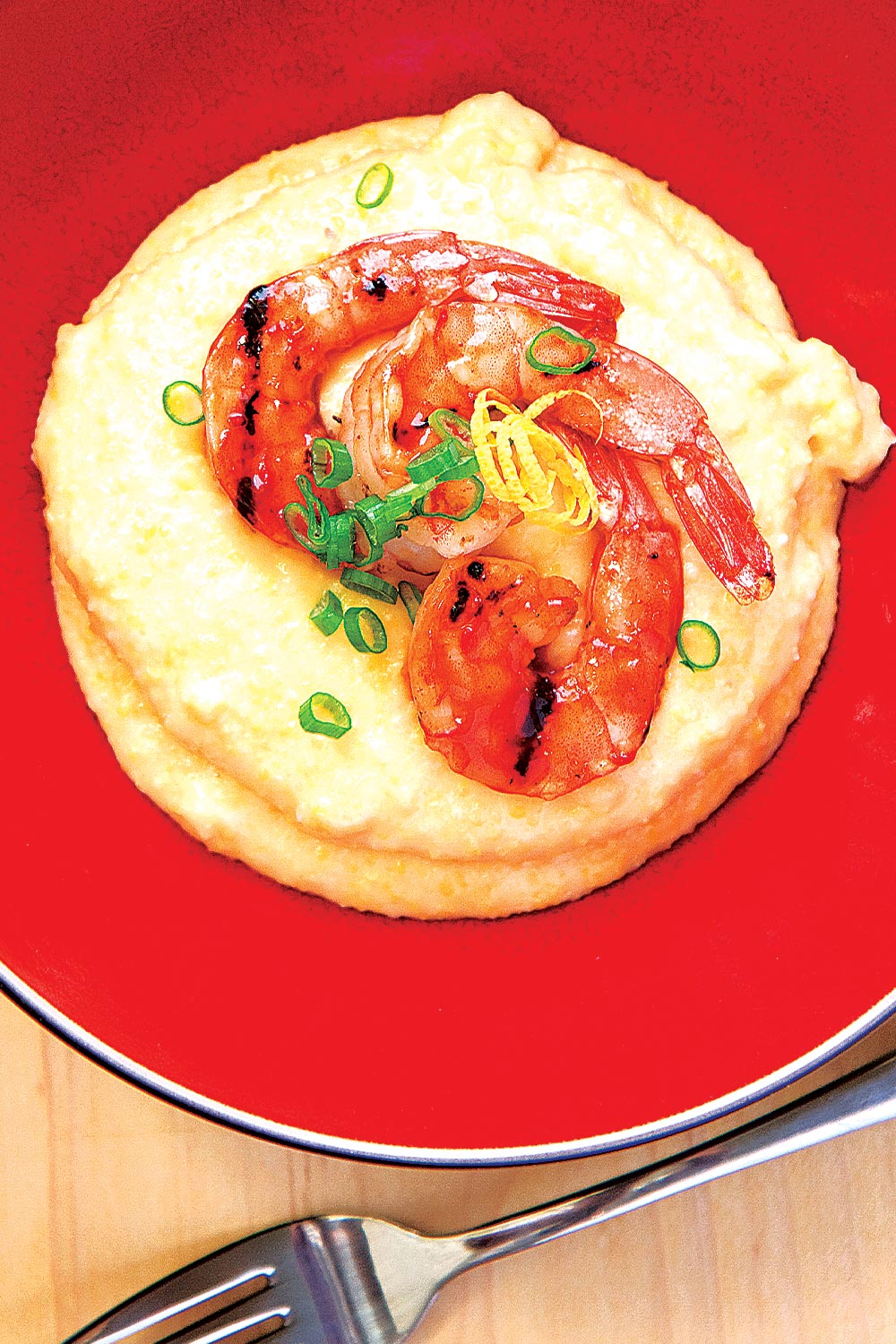 Ingredients
Serves 6
Shrimp:
½ lb Caw Caw Creek Bacon, diced
½ cup Onion, finely minced
½ cup Red Bell Pepper, finely minced
2 cloves Fresh Garlic, minced
2 lbs Wild American Shrimp, cleaned and peeled
1 cup Roma Tomatoes, diced
¼ cup White Wine
¼ lb Cold Butter
Grits:
4 cups Water
2 tsp Salt
1 cup Anson Mills Stone Ground White Grits
½ cup Heavy Cream
1 cup White Cheddar Cheese, shredded
Salt and Fresh Ground Black Pepper
---
Directions
For the Shrimp: Cook bacon over medium heat until crisp. Drain excess fat from bacon reserving 2 Tbs for next step. Sauté onions, peppers and garlic in bacon fat until soft. Add shrimp, tomatoes, and wine. Simmer until shrimp are pink. Remove the shrimp and continue to simmer until most of the wine is evaporated. Add shrimp back in along with the reserved bacon. Once the shrimp is hot, remove the pan from the heat and swirl in the butter to melt. Season to taste with salt and pepper.
For the Grits: Combine the water and salt in a saucepan over medium-high heat. When the water comes to a boil, whisk in the grits until smooth. Reduce the heat to low and simmer for approximately 20 minutes, stirring often to prevent the grits from sticking to the bottom of the pan. Add the cream and the cheddar cheese. Season to taste with salt and pepper.
Finish the Dish: Place a generous scoop of grits in a warm bowl. Spoon shrimp and sauce over grits. Serve with crusty bread and enjoy!
Pairing Suggestion: Along with all the wonderful ingredients in this recipe, the key flavor for the dish comes from the Caw Caw Creek bacon. A dry, sparkling rosé wine would contrast with the rich flavors of the dish, or a rich amber ale (yes, beer!) would be a natural complement.