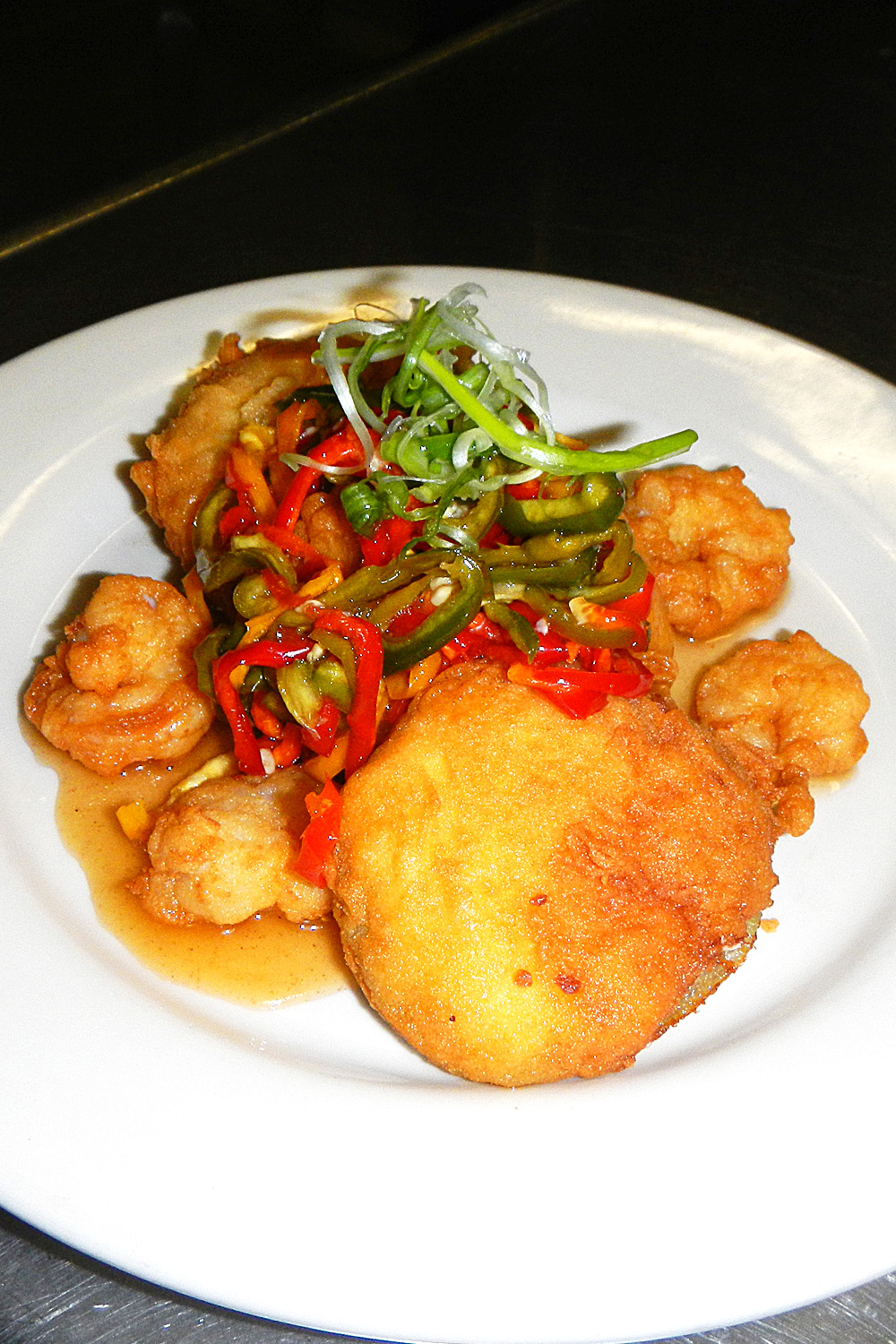 Ingredients
There are not many staples on a southern menu that are as expected as fried green tomatoes. There are different variations and presentations, but, at the Skull Creek Boathouse we add a nice twist with some tangy goat cheese and sweet south Carolina shrimp.
Recipe for 4
8  each, ¼ inch slices of green tomato
4 ounce cream style goat cheese
16 each fresh local shrimp peeled and deveined (medium sized)
2 cups 3 pepper jelly (recipe follows)
2 cups prepared  tempura batter (recipe follows)
Salt and pepper to taste
¼ cup fine sliced green onion
2 cups all purpose flour for dredging
4 cups oil for frying
Tempura Batter
1 1/2 cup flour
½ cup corn starch
1tsp salt
1 ea whole egg
1 tsp white pepper
½ tsp baking powder
½ tsp baking soda
¼ cup salad oil
1 cup milk
1 ¼  cup soda water
---
Directions
This is a very quick and easy recipe.  Place oil in thick bottom pot or a cast iron skillet, seems to work best, and bring oil up to 350 degrees.
Take each slice of green tomato and top with ½ ounce of goat cheese. Dredge in flour and season with salt and pepper.  Dip into tempura batter, and fry until golden brown, around 2-3 minutes. Remove from oil and place on drain rack or paper towel to absorb extra oil.  Take shrimp and dredge in flour and then tempura, fry until golden brown as well, around 3 minutes.  Again, remove from oil and place on drainage rack or paper towel to absorb extra oil.
Place 2 tomato slices on each plate, scatter 4 shrimp per plate around tomatoes, top with pepper jelly and garnish with green onion.
For Tempura Batter; combine  flour, corn starch, baking powder, baking soda, salt and pepper and blend well. Add egg,  and oil, mix, slowly add milk, then add soda water.