Farm Fresh Deviled Eggs w/ Candied Bacon & Sweet Onion Marmalade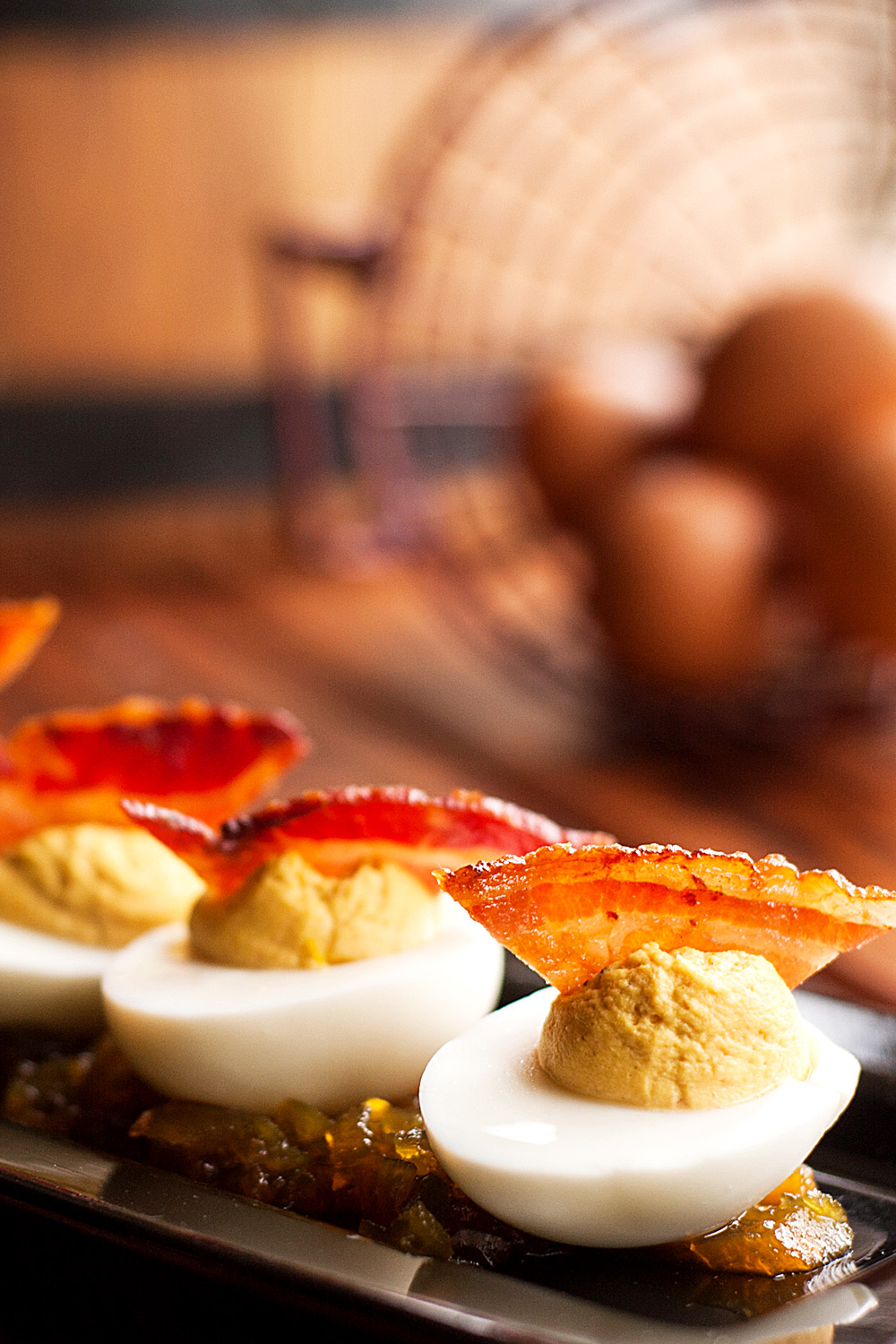 Ingredients
Candied Bacon Ingredients
½ lb Hunter Cattle Company natural bacon
¼ c brown sugar
Wickled* Sweet Onion Marmalade Ingredients
2 c diced red onions
½ c diced spicy bread & butter pickles
1 c sugar
½ c cider vinegar
Deviled Eggs Ingredients
10 large eggs, hard-boiled & shelled
½ c mayonnaise
1 tsp lemon juice
2 tbls white vinegar
2 tsp dried mustard powder
¼ tsp cayenne pepper
½ tsp salt
½ tsp white pepper
1 clove garlic, finely minced
---
Directions
Executive Chef Russell Keane, owner of NEO, a farm to table gastropub, offers his expert neo-classic twist on deviled eggs using farm fresh ingredients for a delicious rendition that is creamy, sweet, salty, spicy and unforgettable.
Candied Bacon Preparation

Preheat oven to 350º. Place bacon flat on sheet pan, sprinkle liberally with brown sugar. Bake in oven for 10 mins., or until desired crispness is attained.

Wickled* Sweet Onion Marmalade Preparation

Place all ingredients in a small saucepan and simmer over medium heat for 30 mins., or until nearly all liquid has evaporated. Remove from heat and refrigerate. Keeps in refrigerator for 2-3 mos. (*Inspired by "Wickles" wickedly delicious pickles.)

Deviled Eggs Preparation

Cut eggs in half and carefully remove yolks without damaging egg whites. Mash yolks together with remaining ingredients. Refill egg whites with mixture.

To Serve

Spoon some marmalade onto center of your appetizer dish, add two egg halves. Garnish eggs with candied bacon. Enjoy!