Cornbread Waffles & Chicken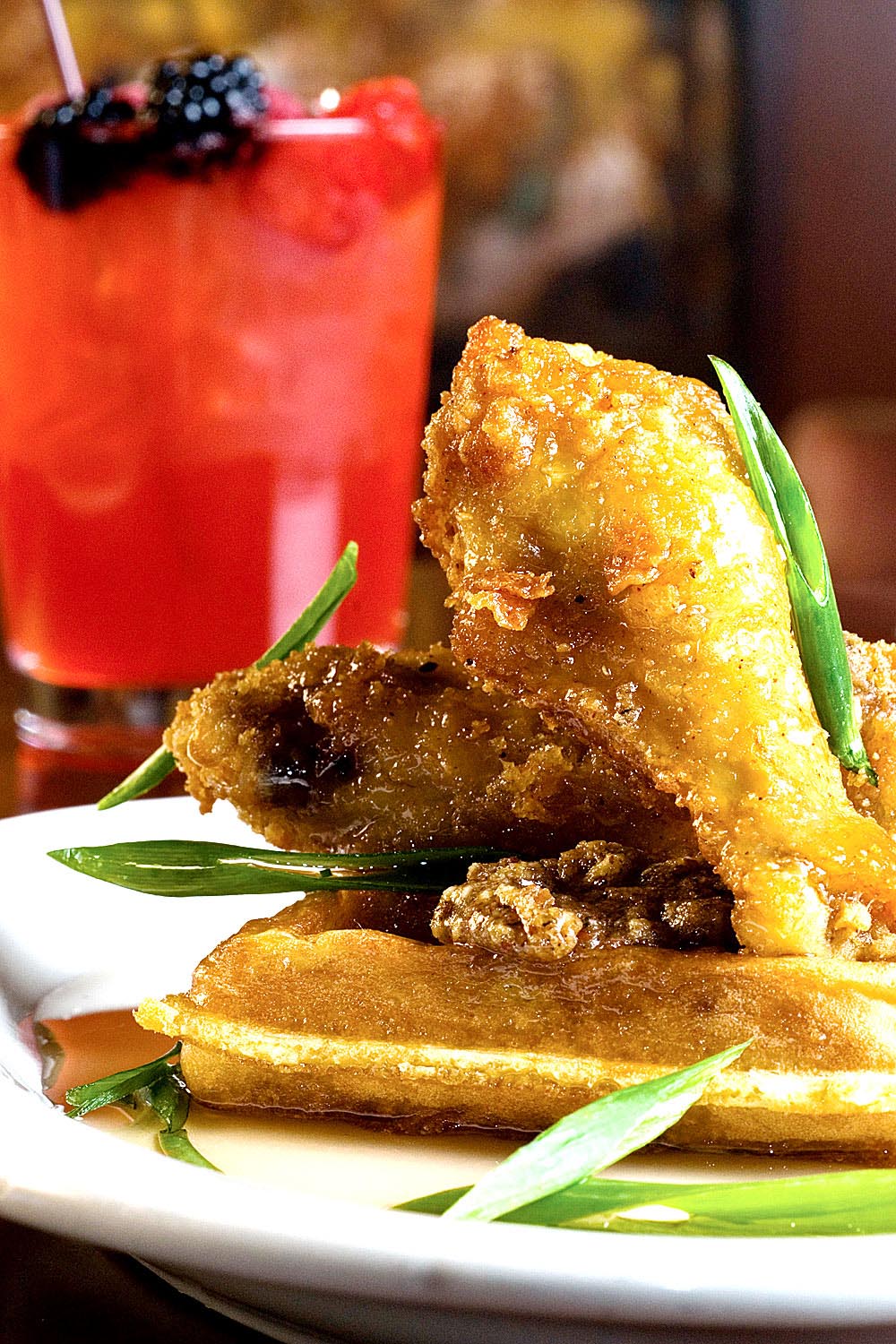 Ingredients
Chicken
Yield: 3 servings
1 1/2 qt Sweet tea
3 C Ice
1 Lemon, quartered
3/4, plus 2 TBS Kosher salt
1 Sage bunch
1 Thyme bunch
3 Bay leaves (fresh if possible, dried is a good sub)
1 Chicken, whole, 3lb, cut into 8 pieces
8 C Self-rising flour
1 TBS Cayenne
1 TBS Paprika
1 TBS Garlic powder
1 TBS Onion powder
1 TBS Cracked black pepper
Sorghum syrup as needed
Hot sauce as needed
Waffles
Yield: 6 to 8 each
1/2 C All-purpose flour
2 C Antebellum white cornmeal, coarse
1 TBS Baking powder
Pinch Baking soda
1 tsp Kosher salt
1 tsp Cracked black pepper
1 Egg
1 1/2 C Buttermilk
1/4 C Bacon drippings
1 TBS Butter
6 Oz Ham, thinly sliced
6 Sage leaves, torn
---
Directions
Chicken
Combine tea, lemon, 3/4 cup salt, sage, thyme and bay in a heavy-bottomed pot and bring to a simmer to dissolve salt. Add ice and cool to 40 degrees F. Add chicken and brine for 24 hours. Remove from brine and pat dry.
Combine flour, remaining salt, cayenne, paprika, garlic powder, onion powder and cracked pepper in a bowl. Add each piece of chicken and toss to fully coat in flour. Rest chicken in a resting pan for 20 minutes.
Toss chicken in flour mixture again and, working in batches, fry chicken in a preheated 300 to 325 degree F cast iron skillet (see note). Turn after 10 minutes and cook 10 more minutes until golden brown. Drain chicken on a paper towel-lined plate.
Start cooking waffles once all chicken is cooked.
To plate place waffle on a plate, cover with chicken, slather with sorghum syrup and dash with hot sauce. Serve immediately.
Note: For cooking oil, Chef Gray uses 1 part duck fat, 1 part pork lard to 2 parts canola oil, but plain vegetable oil works as well. Temperature of oil should remain consistent, never getting above 325 degrees F or below 300 degrees F.
Waffles
Combine flour, cornmeal, baking soda, baking powder, salt, pepper in a large bowl. In a separate bowl, combine egg, buttermilk and bacon drippings.
Slowly whisk wet ingredients into dry until well mixed and no lumps remain.
Melt butter in a preheated waffle iron until it covers skillet. Add enough ham to cover waffle maker and cook for 1 minute to crisp. Add a scoop of cornbread mix and add torn sage leaves, then add another layer of ham. Close waffle maker and cook for the recommended machine time, typically 2 to 3 minutes.