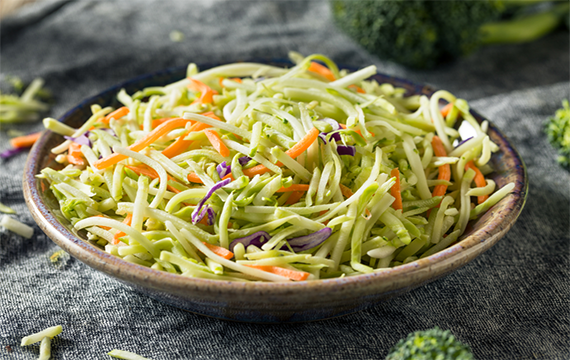 Ingredients
Two bunches of raw, fresh, local, collard greens (approx 2–3 lbs)

1 large red onion, halved, and sliced thinly (

If you have a mandoline, consider using it for this step)

1 cup hand- grated, or store-bought matchstick carrots

1 cup of thinly sliced red radishes

½ cup apple cider vinegar

½ cup apple juice

⅓ cup olive oil

1 tablespoon honey

1 teaspoon minced garlic in oil 

1 teaspoon celery seed

Salt & pepper to taste, but don't be shy
Southside Smokehouse and Grille
Chef: Sarah McClure
---
Address
726 S Howard Ave, Landrum, SC 29356, USA
Visit Website
---
Directions
Remove the largest stems from your collard greens.  You don't need to remove every single bit of vein or stem as you want to retain a bit for crunch.
Working a manageable batches, roll your collards together into a large cigar shape and slice at a diagonal with a sharp knife, making approx 1 inch "ribbons".
Combine all ingredients in a large bowl and use gloves to massage the ingredients together. Turning them over and mixing as you go.
Allow the mixture to rest for at least 10 minutes. Toss again to mix and enjoy immediately or cover and refrigerate for later use.
*There will be liquid left in the bottom of your bowl if you use this immediately. If making ahead, pour this liquid into the storage container with the collard slaw and it will continue to marinate for a day or more in the fridge. After about 2 days it will start to lose its texture however.
You can also make a sweeter version of this dish in which you substitute the carrots and radishes for apples and golden raisins!