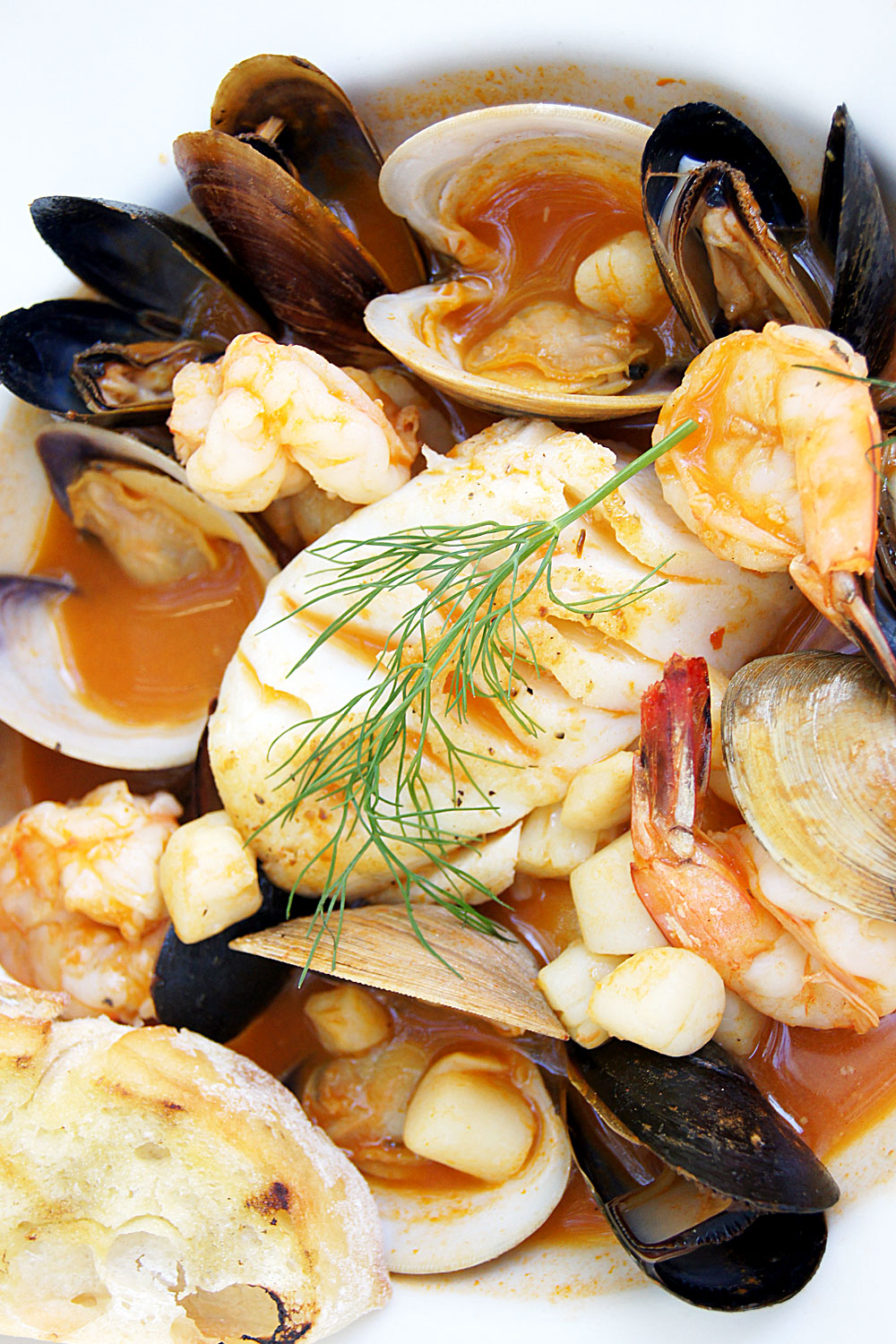 Ingredients
Serves 8-10
¾ cup butter
2 medium onion, chopped
3 cloves garlic, minced
1 bunch fresh parsley leaves, minced
2 (14.5-ounce) cans plum tomatoes undrained and cup up*
2 (8-ounce) bottles clam juice
2 bay leaves
1 tablespoon fresh basil leaves
½ teaspoon fresh thyme leaves
½ teaspoon fresh oregano leaves
1 ½ cups white wine
12 Local little neck clams in shell
12 mussels in shell
1 ½ pounds South Carolina white shrimp, peeled and deveined
1 1/2 pounds bay scallops
1 pound white fish (South Carolina triggerfish, gag grouper, or wreckfish), cut into bite-size chunks
1/2 cup flaked Bluffton, SC blue crab meat
Salt and freshly ground pepper
** To add additional flavor, place the shells of the shrimp in a saucepan and cover with water. Simmer over low heat approximately 7 to 10 minutes. Remove from heat and strain the broth; discarding shells. Add shrimp broth to soup broth.
---
Directions
In a large soup pot or cast-iron Dutch oven over medium-low heat, melt butter; add onions, garlic, and parsley. Cook slowly, stirring occasionally, until onions are softened. Add tomatoes, clam juice, bay leaves, basil, thyme, oregano, and red or white wine; bring just to a boil, then reduce heat to low; cover, and simmer approximately 45 minutes to 1 hour. If sauce becomes too thick, thin with additional wine or water.
Scrub clams and mussels with a small stiff brush under cold running water; remove beards from mussels. Discard any open clams or mussels. Cover with cold salted water; let stand 5 minutes and then pour off the salted water
Gently stir in the clams, mussels, shrimp, scallops, fish fillets, and crab meat to the prepared stock. Cover and simmer 5 to 7 minutes until clams pop open and shrimp are opaque when cut.
NOTE: Do not overcook the seafood (the seafood continues to cook after it is removed from the pan). Remove bay leaves. Remove from heat and ladle broth and seafood into large soup bowls and serve.