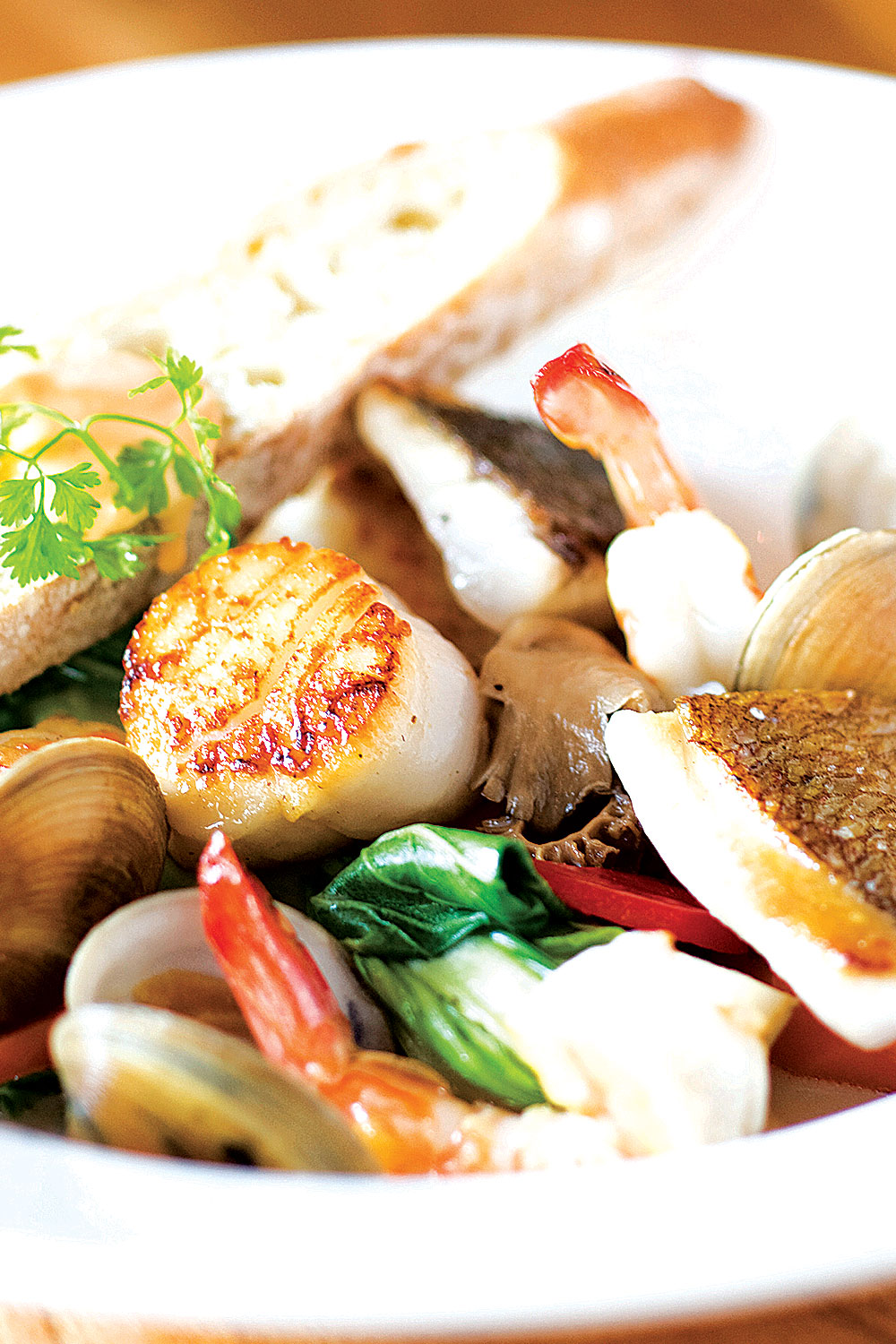 Ingredients
For the Broth
½ onion, diced
½ cup white wine
½ t powdered saffron
¼ cup ginger, chopped
¼ cup garlic, chopped
¼ t black pepper, freshly ground
½ pc lemon grass, chopped
1 sprig Kaffir lime
1 celery stalk, chopped
1 lime, juiced
2 t salt
a couple fish bones
Directions for Broth
Mix all the ingredients together
Cook for 25 minutes and bring to simmer
Skim
Pass through chinois
For the Vegetable:
¼ red pepper

? cup white wine
½ celery
½ fennel
¼ t black pepper, freshly ground
1 fingerling potato
1 pc baby bok choy
1 tomato
3 oyster mushrooms
For the Bouillabaisse
4 oz. mid-Atlantic scup

4 oz. sea scallops
4 oz. shrimp
4 pc soft shell/steamer clams
¼ cup olive oil
½ shallots, thinly slice
½ cloves garlic, crushed
1 pc sliced French baguette bread
---
Directions
Heat olive oil in a large (6-qt) saucepan. Sear scallops, fish, shrimp, then remove them from the pan.
In the same pan drop the clams with the garlic and shallots, then add the broth and bring to boil.
Add vegetable in the broth. Cook all together until the vegetable are crunchy and your clams are cooked.
Sauté for one minute then add crushed garlic and sweet red pepper.
Add tomato, celery, and fennel.
Stir the vegetables into the oil with a wooden spoon until well coated. Then add another 1/4 cup of olive oil.
Cook until the onion is soft and golden but not brown.
Place a thick slice of crusty French bread, plain or slightly toasted.