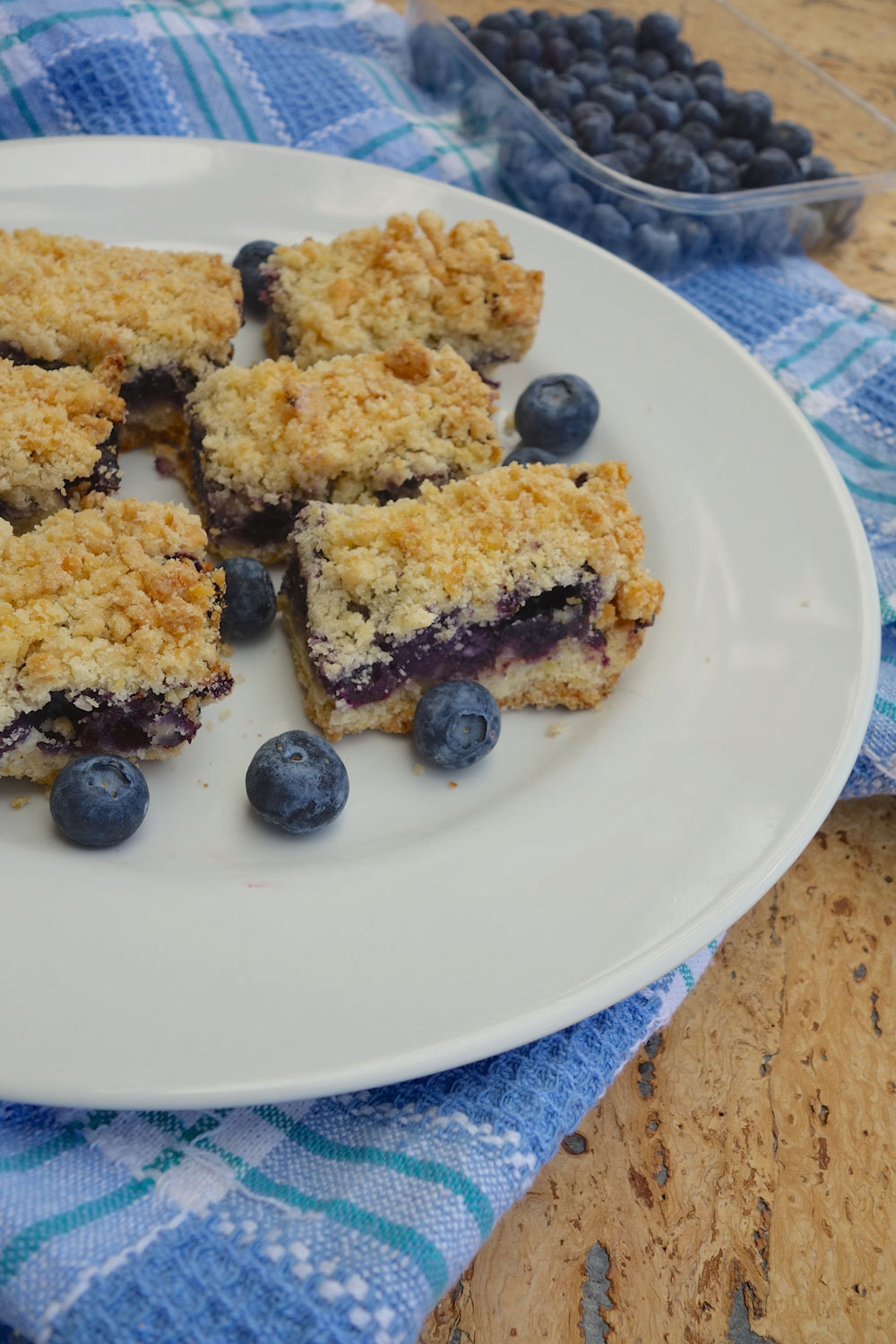 Ingredients
For the Base & Crumble Topping
1 cup all-purpose flour
3/4 cup old-fashioned oats , or large flake oats (not quick oats or instant oats)
1/2 cup granulated sugar
1/4 cup packed brown sugar
1/2 teaspoon cinnamon
1/4 teaspoon salt
1/2 cup unsalted butter , melted
1 large egg yolk
1 tablespoon packed brown sugar
For the Blueberry Layer
2 cup blueberries , fresh or frozen – see baking time adjustment if using frozen
2 tablespoons lemon juice , freshly squeezed (use 1 tablespoon if using frozen berries)
1/4 cup granulated sugar
2 teaspoons cornstarch
---
Directions
Preheat the oven to 350F degrees. Line an 8×8 baking pan with aluminum foil and grease with non-stick cooking spray.
In a medium bowl whisk together the flour, oatmeal, granulated sugar, 1/4 cup brown sugar, cinnamon, and salt. Gently stir in the melted butter & egg yolk.
Remove 1 cup of the mixture.
Press the remaining mixture into the bottom of the prepared pan.
In a medium bowl mix together all the ingredients for the blueberry layer. Spoon over top of the base oatmeal cookie mixture in the pan.
To the reserved 1 cup of oatmeal mixture, stir in the 1 additional tablespoon of brown sugar. Crumble the mixture over top of the blueberry layer. I like to form big crumbles by squeezing it in my fist.
Bake in the preheated oven for about 40-45 minutes or until you see the blueberries bubbling and the top crumble turning golden brown. If you used frozen berries, the bake time will be 50-55 minutes.
Allow to cool fully to room temperature (at least 3 hours) before cutting into the bars. Bars are easiest to cut when they're cold using a sharp knife.