Bacon Jalapeño Deviled Eggs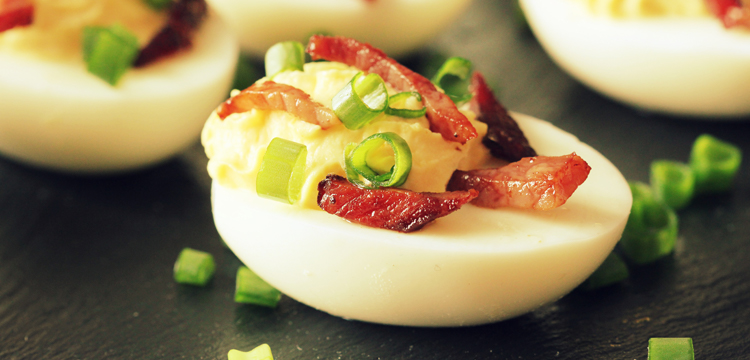 Ingredients
12 large eggs, hard boiled and peeled
1 cup of Dukes® Mayonnaise
1 ½ tsp rice vinegar
¾ tsp ground mustard
½ tsp sugar
2 jalapenos, seeded and diced
6 pieces of Carolina Pride® bacon, cooked, crisp, and crumbled
Paprika, for garnish
---
Directions
Slice the hard boiled eggs in half, lengthwise.
Remove the yolks and put them in a mixing bowl.
Mash the egg yolks with a fork.
Add the mayonnaise, rice vinegar, ground mustard, and sugar to the mashed egg yolks and stir until well combined.
Mix in the jalapenos and bacon.
Put the mixture in a Ziploc bag and cut a small hole in the corner of the bag.
Fill each egg hole with the mixture
Sprinkle with paprika.
Chill until ready to serve.