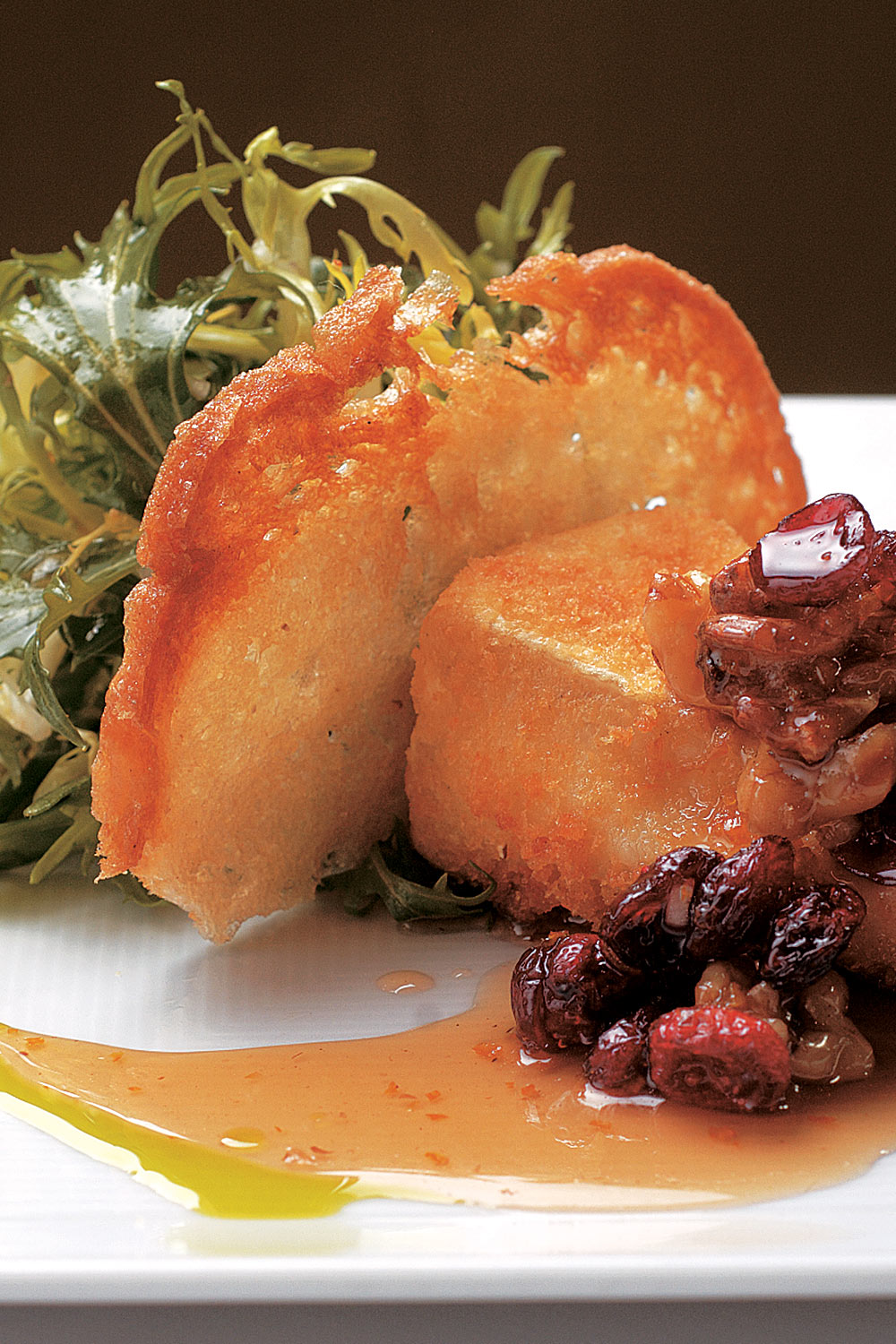 Ingredients
Recipe Serves 4
Chef's note: A Cypress classic and holiday favorite, this has been on our menu since the beginning. If you cannot find goat brie, which I prefer for its "grassy" flavor, you may substitute Camembert or domestic saga bleu cheese.
Cranberry-Walnut Chutney
¼ cup granulated sugar
¼ cup light brown sugar
½ cup cider vinegar
¼ cup dried cranberries
¼ cup walnuts
½ tablespoon orange zest (on microplane)
Toast Points
½ baguette sliced on a bias into four ¼-inch-thick slices
¼ cup olive oil
Garlic Shallot Vinaigrette
2 tablespoons diced shallots
2 tablespoons minced garlic
1 tablespoons Dijon mustard
4 tablespoons champagne vinegar
4 tablespoons olive oil
Almond-Fried Goat Brie
1 gallon peanut or canola oil
4 pieces goat brie
1 cup all-purpose flour
2 eggs, beaten
¼ cup almond flour
¼ cup panko
½ pound mixed greens, washed
4 ounces frisee (yellow center leaves only)
Salt
White Pepper
---
Directions
Cranberry-Walnut Chutney Directions
In a small saucepan, combine sugars and vinegar and reduce by half. Mixture should become syrupy.
Remove from heat. Stir in cranberries, walnuts and orange zest. Allow mixture to cool to room temperature.
Toast Points Directions
Preheat oven to 325 degrees.
Place bread on a sheet pan greased with olive oil.
Bake toast point for 5 to 6 minutes, or until golden brown.
Garlic Shallot Vinaigrette Directions
In a mixing bowl, combine shallots, garlic, mustard and champagne vinegar.
Using a whisk, stir in olive oil.
Almond-Fried Goat Brie Directions
In a large pot, heat oil to 350 degrees.
Place flour in a small bowl. Place eggs in a separate small bowl. Place almond flour and panko in a third small bowl.
Dip the goat brie into the flour, dusting off any excess.
Place brie in egg wash and coat evenly.
Transfer brie and dredge in almond flour mixture.
Place the brie in the hot oil and fry until golden brown (approximately 1 ½ minutes). Remove from oil. Place on paper towels to absorb oil and keep warm.
Toss greens with vinaigrette evenly. Season to taste with salt and pepper.
On serving plates, place equal amounts of greens, 1 toast point and 1 place friend brie. Put 2 tablespoons Cranberry-Walnut Chutney on top of the brie.