Roasted Squash with Parmesan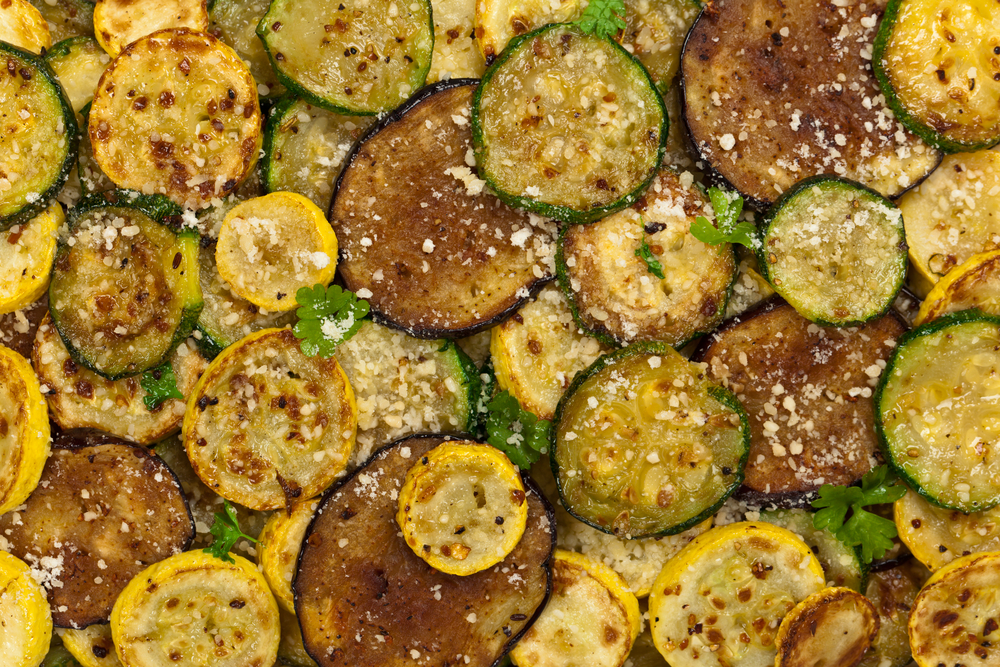 Ingredients
2 pounds Certified SC Grown summer squash and zucchini
1/4 cup plus 2 tablespoons extra-virgin olive oil
1 tablespoon coarse salt
Freshly ground black pepper
1 1/2 cups finely grated Parmesan cheese
Nonstick cooking spray
Zest of 1 lemon
Sea salt
Crushed red pepper flakes
---
Directions
Place 1 squash or zucchini on a cutting board. Cut zucchini at a 45-degree angle on the bias, rotate squash a quarter turn toward you so that the cut side faces up. Cut again at a 45-degree angle right through the middle of the face. Rotate the squash a quarter turn again and repeat process. Repeat process until all squash and zucchini are cut.
Transfer squash and zucchini to a large bowl. Add 1/4 cup olive oil, salt, and 1 teaspoon black pepper; toss to combine. Add Parmesan and toss until squash and zucchini are well coated.
Preheat oven to 425°. Fit a rimmed baking sheet with a rack; spray rack with nonstick cooking spray.
Spread squash and zucchini pieces evenly on prepared rack. Transfer to oven and roast until tender and lightly caramelized, about 12 minutes, rotating pan halfway through cooking. Remove from oven and let cool slightly; transfer squash and zucchini to a large platter or 4 individual plates.
Drizzle squash with remaining 2 tablespoons olive oil. Zest lemon over squash and cut lemon into wedges; squeeze lemon over squash. Season with sea salt, red pepper flakes, and black pepper; serve immediately.