Pork Tenderloin with Apple Cider Sauce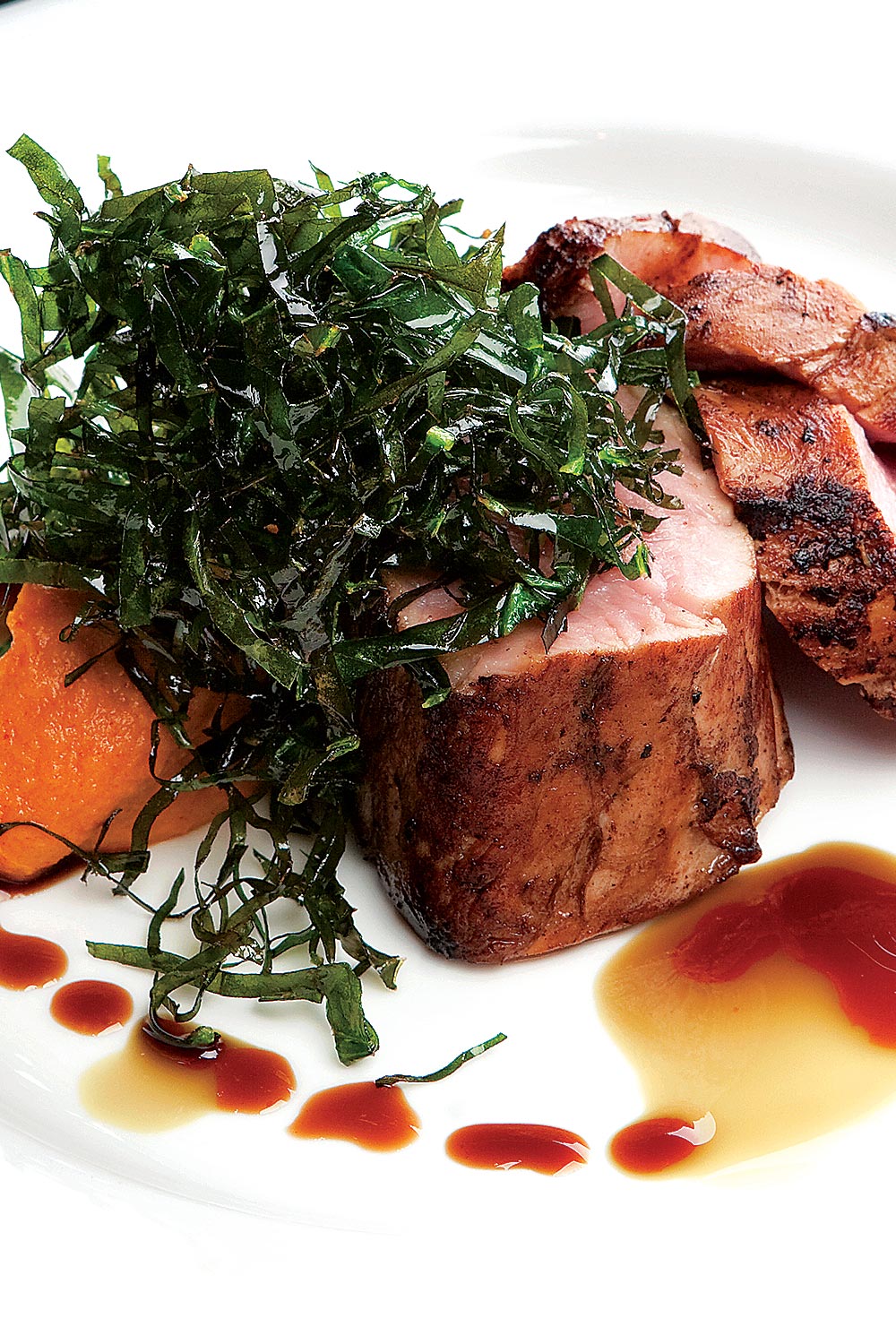 Ingredients
8 servings
Sweet Potato Purée
3 pounds whole Certified South Carolina sweet potatoes, washed, pricked with a fork
1/2 cup whole-milk buttermilk
1/2 cup whole milk
6 tablespoons unsalted butter, room temperature
1/2 teaspoon kosher salt
Freshly ground black pepper
Roast Pork Tenderloin:
3 cloves of garlic, peeled and minced
1 tablespoon fresh rosemary, chopped
2 teaspoons kosher salt + more to season the sauce
1/2 teaspoon freshly ground black pepper + more to season the sauce
1 cup apple cider or apple juice
1/2 cup apple cider vinegar
1 cup beef stock (not beef bouillon)
2 pounds Certified South Carolina boneless pork tenderloin
2 tablespoons canola oil
Frizzled Collard Greens
1 bunch Certified South Carolina collard greens, stems removed, washed well, and dried thoroughly
4 cups of canola oil
1/2 teaspoon kosher salt
---
Directions
Adjust an oven rack to the upper-middle position. Preheat the oven to 425? F. Place the potatoes on a foil-lined pan and bake for 45 minutes to 1 hour, until tender. Allow to cool until cool enough to handle and peel away the skin or scoop out the flesh. Heat the buttermilk and milk together in a small sauce pan just until hot.
Working in batches if necessary, purée the warm potatoes in a food processor. With the motor running, gradually add the warm milks and the butter and process the potatoes until silken. Add the salt and process. Transfer the potatoes to a saucepan. Place it over low heat, cover, and keep the potatoes warm until ready to use.
Preheat oven to 350 degrees F.
Crush the garlic with the rosemary, 2 teaspoons of the salt, and 1/2-teaspoon of the pepper to make a paste. Pierce the pork with a sharp knife in several places and rub and press the paste into the pork. Rub the meat with canola oil and any of the remaining paste. Place the pork in a roasting pan and roast, basting the pork with the pan drippings 2 to 3 times. Roast the pork until no longer pink in the center, about 45 minutes. An instant read thermometer should register 145? F. Remove the pork and set it aside to rest at least 10 minutes before slicing.   
Add the vinegar and apple cider or juice to the roasting pan and scrape up all the caramelized bits from the bottom. Transfer this liquid and the stock to a saucepan over high heat and cook for approximately 5 minutes, or until reduced by half. Season the sauce with salt and pepper to taste. Serve warm with the sliced pork.
Layer 3 or 4 collard green leaves at a time, roll up the stack up like a newspaper, and slice the leaves into thin slices. Repeat with all of the leaves.
Heat the oil in a deep pot until the oil reaches 350? F. Working in 3 or 4 batches, fry the collards for 30 to 45 seconds. The leaves will turn translucent and shiny as they fry. Drain on a paper towels. Toss with the salt and serve on top of the pork.