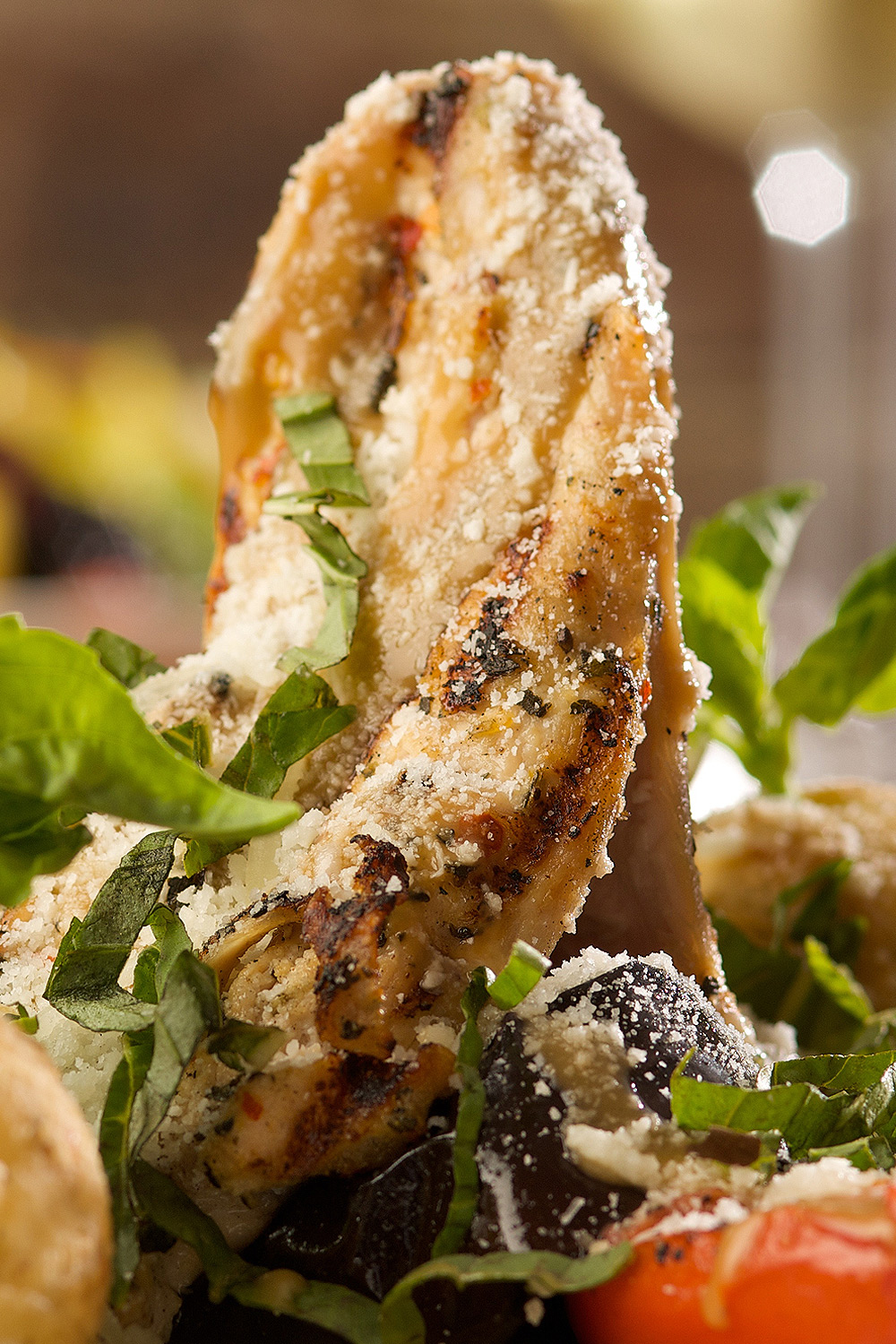 Ingredients
1 lg zucchini
1 lg eggplant
1 lg ripe tomato
1 (6oz) chicken breast
2 tbsn basil pesto (see recipe)
2 goat cheese croutons (see recipe)
1 tbsn balsamic vinaigrette (see recipe)
1 tbsn pecorino romano
1 tbsn chiffonade basil
salt and pepper
oil
Balsamic Vinaigrette – makes one quart:
¾ cup Dijon
1 cup balsamic vinegar
1/3 cup water
¾ cup extra virgin oil
2 ½ cup blended oil
1 tbsn salt
3 tsp pepper
1/3 cup honey
Directions: Blend all ingredients together
Basil Pesto:

2 lb picked basil
2 cup romano cheese
1 ½ cup sliced almonds
3 tbsn garlic, minced
blended olive oil

Directions: Puree. Add oil to achieve paste-like consistency.
---
Directions
Slice ¼ in lengthwise. Strip out of center of each vegetable. Brush each vegetable with oil, sprinkle with salt and pepper. Grill on medium high heat on each side until tender but not falling apart. At the same time grill chicken breast on medium heat 4-6 minutes on each side or until no pink left in chicken. Spread pesto on bottom of plate. Arrange vegetables & chicken on plate with goat cheese croutons. Drizzle with balsamic. Sprinkle with pecorino & chiffonade of basil.