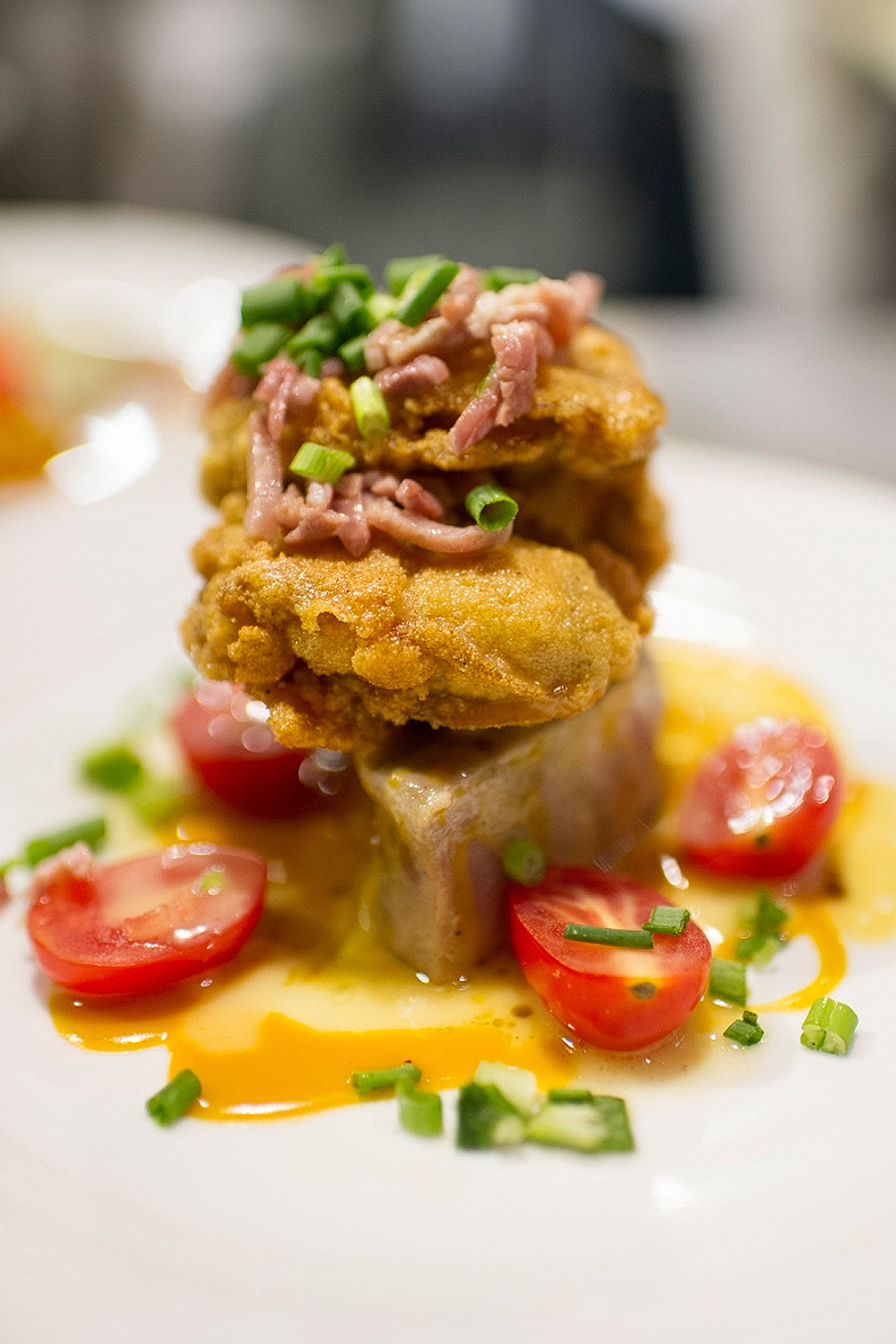 Ingredients
Serves 4 Plates
Mustard Q Sauce Ingredients:
1 ¼ C. cider vinegar
1 ¼ C. prepared mustard (French's is good)
¼ C. ketchup
½ C. Roddenberry's molasses or honey
½ C. water
1 Tbs. Worcestershire sauce
1 Tbs. Tabasco brand hot sauce
Country Ham Green Onion Butter Ingredients:
4 oz. Country ham, cut into julienne strips
8 oz. Chicken stock
½ C. chopped green onions
4 oz. Land O'Lakes unsalted butter
---
Directions
Mustard Q Sauce Directions
Mix all ingredients in a non-reactive sauce pan and bring to a boil over medium high heat. Allow to cool before using. Set aside.
Country Ham Green Onion Butter Directions:
Cook ham in stock and reduce by ½. Whisk in butter. Add green onions. Set aside.
Oysters and Tuna Ingredients
4.5 oz. Portions of tuna loin
Olive oil
24 oysters
2 cups cornmeal
cooking oil
Directions:
Roll oysters in cornmeal. Pour approximately 1 inch of cooking oil into a heavy frying pan and heat until hot, 350 degrees. Gently place oysters into hot oil and fry approximately 40 seconds in frying pan. Remove to rack to drain. Keep warm. Lightly brush tuna with olive oil. Sauté or grill tuna until medium rare. Using the Mustard BBQ sauce, glaze tuna over medium heat. Remove immediately.
To Assemble:
Spoon Mustard "Q" sauce onto plate. Place tuna on sauce and top with six oysters. Top with one quarter of the butter. Garnish with chopped green onions and serve.