Goat Cheese with Beets, Arugula and Balsamic Dressing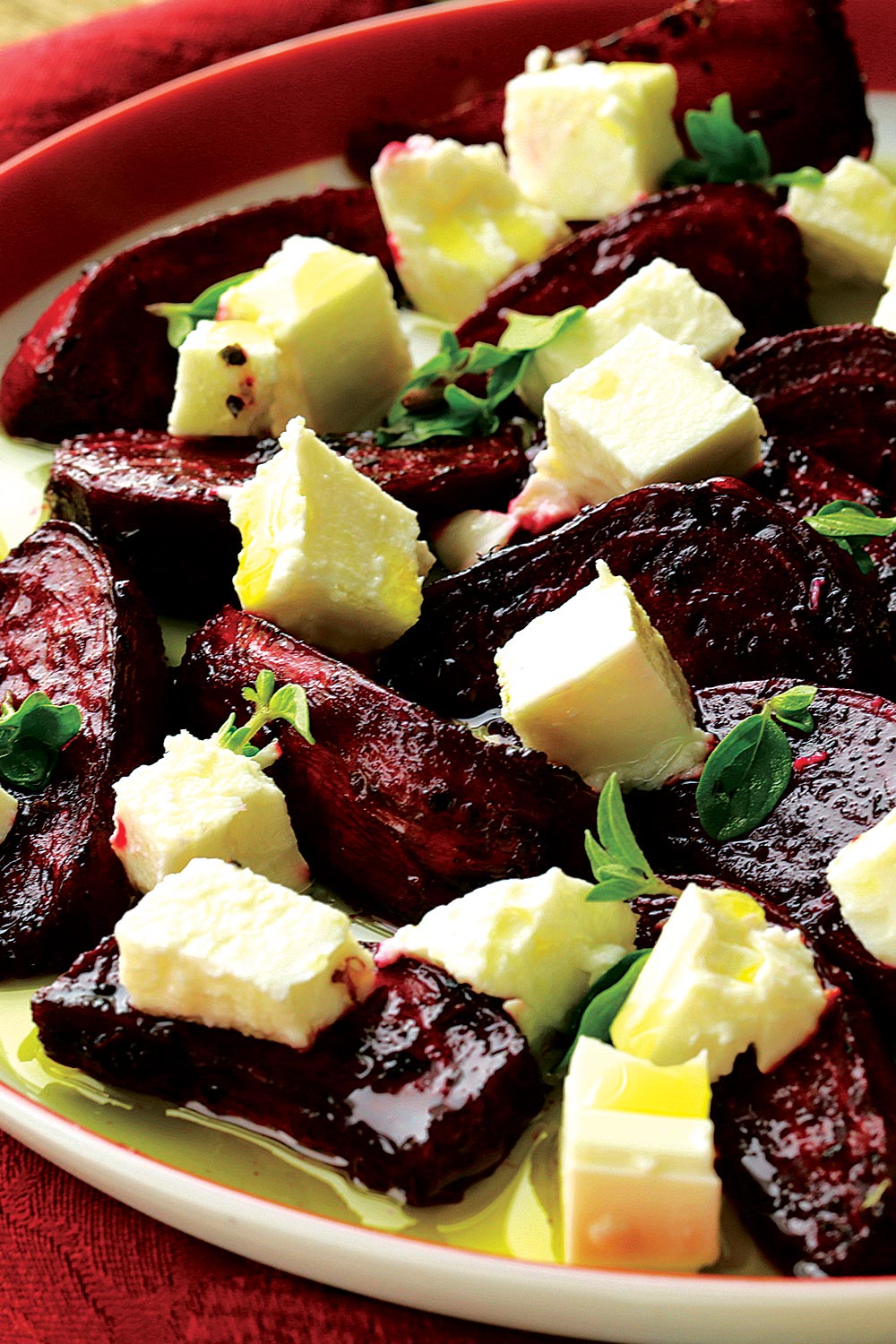 Ingredients
8 servings
Roasted Beets
1 tablespoon white wine vinegar
1 tablespoon balsamic vinegar
2 tablespoons Certified South Carolina clover honey
1 tablespoon extra-virgin olive oil
Zest and juice of 1 orange
2 teaspoons kosher salt
1/2 teaspoon freshly ground black pepper
1 pound Certified South Carolina baby red beets, rinsed but unpeeled
1 pound Certified South Carolina baby yellow beets, rinsed but unpeeled
Balsamic Vinaigrette
1 garlic clove, finely minced
1/4 cup balsamic vinegar
Juice of 1 lemon
1 tablespoon local honey
1½ teaspoons kosher salt
1/2 teaspoon freshly ground black pepper
1/2 cup extra-virgin olive oil
1/4 cup canola oil
8 ounces Split Creek Farm goat cheese, divided into 8 slices
10 cups arugula, washed, dried, and stemmed
1 fennel bulb, core removed and thinly sliced
1 cups toasted Certified South Carolina pecans, roughly chopped
---
Directions
Preheat the oven to 350 degrees
You will need to cook the red beets and the yellow beets in separate pans or the red beets will bleed onto the yellow ones. Mix all of the ingredients except the beets together. Toss half with each color beets. Place the beets in separate baking pans and cover with foil. Roast the beets for 45 minutes to 1 hour, or until just tender.  Cool in the baking pans, still covered with foil. When cool, peel the beets with a clean kitchen towel and return them to the juices in the pan.
Combine the garlic, vinegar, lemon juice, honey, salt, and pepper in a bowl. Slowly whisk in the oils. Taste the dressing for seasoning and refrigerate.
Drain the beets and cut them into the desired pieces. Mix the arugula and fennel together and toss lightly with enough vinaigrette to evenly coat the greens. Arrange the mixture on a plate and garnish with beets, a slice of goat cheese, and toasted nuts.