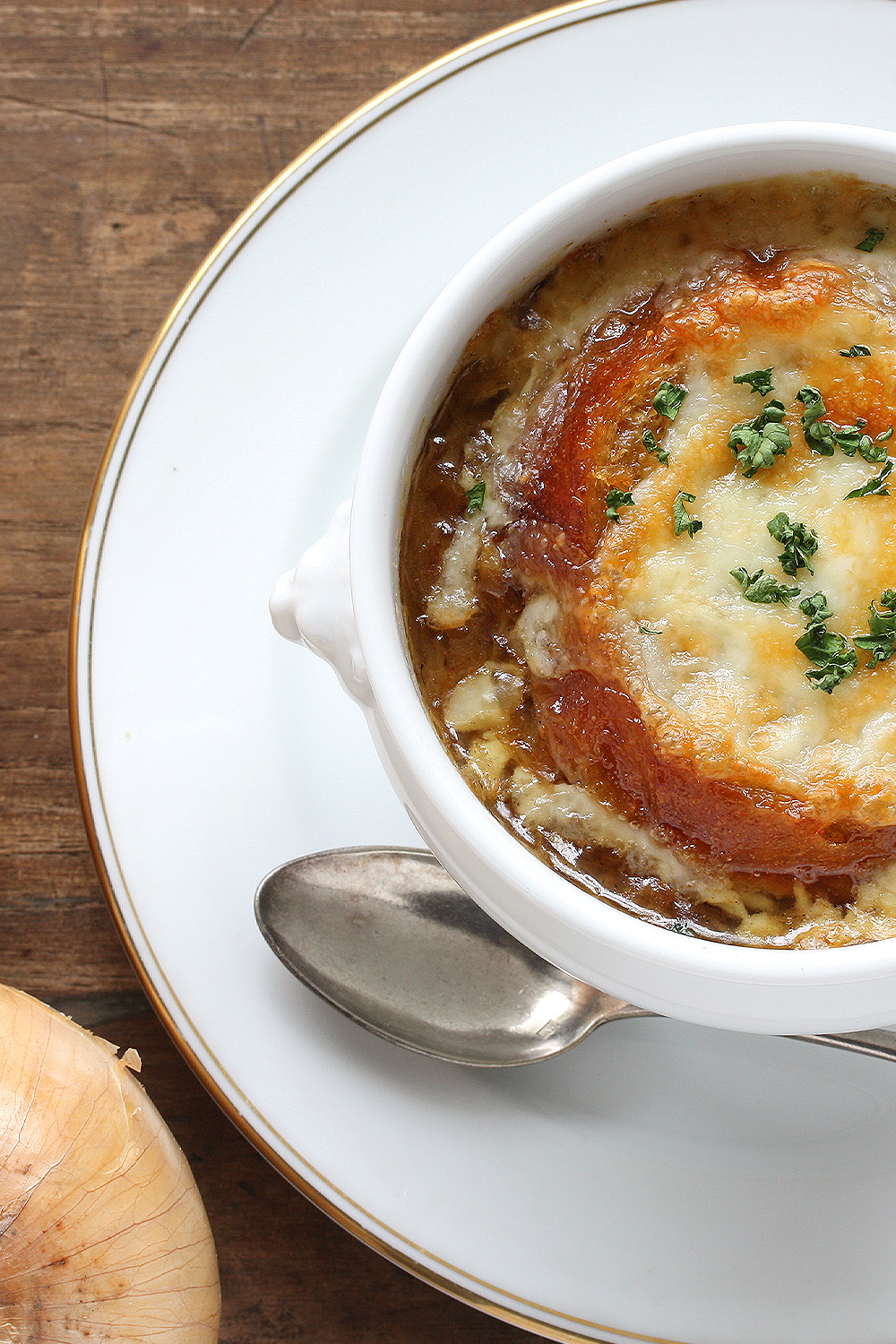 Ingredients
¼ lb butter (one stick)
5 lbs Palmetto Sweet White Onions
3 Gallons Beef Stock
2 Tbs tomato paste
Salt & Pepper to Taste
1 750 ml bottle of wine, your choice
Croutons:
¼ lb stale bread
1 Tsp Saffron
1/8 c Olive oil
Salt and Pepper to Taste
Yield: Approximately One Gallon
---
Directions
Mise en Place
Fine Julienne onions
In a 2 gallon stock pot- saute onions with butter.
With a wooden spoon, Stir onions while sauteing. Allowing onions to sweat in between stirring.
As onions caramelize, use spoon to scrape natural sugars off the pan and incorporate into the onions. Onions will begin to brown with the natural sugars.
After properly browning onions, deglaze with 1/3 of the wine.
Reduce thoroughly.
After complete reduction allow onions to saute and caramelize with the sugars from the wine.
Add tomato paste and continue browning
Deglaze with 1/3 of the remaining wine and 2 pints beef stock
Reduce to 1/3 volume
Add ½ remaining wine and 1 gallon beef stock
Reduce to 1/3 volume
Add remaining beef stock and wine. Simmer and reduce as desired. Season to Taste.
For Croutons:
Mise en place
In small saute pan, dry saute saffron
Add olive oil and continue to toast saffron. Both steps should take about 5 minutes
Medium dice bread and toss with toasted oil. Season to taste
Evenly place bread on a baking sheet and bake at 375º F until golden brown.
Serve French Onion Soup in heavy bowls or crock pots. Garnish top with croutons and sliced gruyere cheese. Bake for about 5 min at 400º F, or until cheese browns.